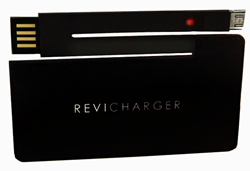 Designed to Charge Your Phone Anywhere
(PRWEB) April 08, 2014
"The Revi Charger is designed to get rid of cords and will charge users' phones anywhere and anytime," said Jennifer Shulman, Marketing Director of Revi Charger. "As we are already funded, we were able to gather the world's top talent to produce the Revi Charger. We want our customers to receive the biggest boost when they need it the most with no wires."
Allowing you to charge your smartphone from any USB port, as well as providing a battery charge without a USB port, the Revi Charger comes in two versions:
1. 2.4 mm thick, 550 mAh battery capacity ($25 preorder)
2. 7 mm thick, 1440 mAh battery capacity ($30 preorder)
Both versions come are either suitable for the iPhone 5 USB or Micro USB and are compatible with iPhone, Samsung Galaxy, HTC, Nexus, Windows Phone, Blackberry, Lumia, lG & more.
Available for shipping early summer, the Revi Charger can be pre-ordered with a $5 discount at http://www.ReviCharger.com.
About Revi Charger
Developed by a team of engineers with a background from the world's leading battery manufacturer, the Revi Charger has the best technology and hardware combined in the smallest form factor so that users no longer need to worry about cords and can still receive a boost in their cell phone battery. Through R&D, the team of experts has come together specifically to make the comfortable backup battery and charger for everyday use.