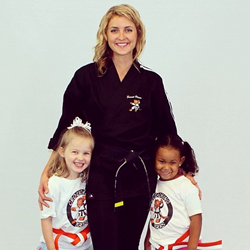 Indianapolis, IN (PRWEB) April 04, 2014
As a young entrepreneur from the Indianapolis area, Olivia Roney Spahn, was honored with the Outstanding Alumni from her alma mater, IUPUI. The Communications Studies Department chose 2014 as the year to honor to outstanding alumni, one alum who had been out of the department for over 10 years and another who had graduated within the past 10 years.
At 19 years old, Olivia began her career as an entrepreneur and opened her business, Crouching Tigers, while still attending IUPUI. Crouching Tigers began as a mobile martial arts business that travelled around to the greater Indianapolis and Lafayette areas to over 70 preschools and child care centers. Just this January, Crouching Tigers expanded to include Cincinnati.