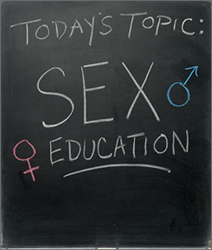 With a growing trend of teenage girls using the internet to search for pregnancy and sex questions, popular health sites such as AskTheDoctor.com are doing everything they can to help these teenage girls get proper advice.
New York, NY (PRWEB) April 04, 2014
A Google search on the internet for "How to kiss," "how to have sex" or "how to avoid pregnancy" will display millions of "hits". This describes a growing trend that people want answers to very personal, intimate questions and their typical response is to seek Ask The Doctors website for meaningful answers.
Statistics from Pew Research show over 80% of internet users research health information online, as a matter of course. Not a surprising statistic given the cultural attitude of our world, transformed by the information era. However, when 30% of this amount is organically derived from a group of dedicated adolescents, specifically, gullible teenage girls helplessly craving answers about sex, unable to detect a site's credibility, it's no longer business as usual.
Because of this alarming trend Ask The Doctor has recently ramped up its Parenting, Pregnancy and Sex sections of the website. The first step being hiring full time obstetricians and gynecologists to help the teenagers of the world.
According to Ask The Doctors CEO, Mr. Prakash Chand, "We get a large amount of questions every single day from teenagers especially here in America, with questions about pregnancy, sex and relationships. With so many teenage pregnancy questions, we had no choice but to hire full time OB/GYN doctors for our site."
With many teenagers turning to Ask The Doctor for advice, the role of parents, guidance counselors and family doctors are diminishing greatly as the website is becoming these teenagers primary health information source. Young ladies who are discovering the changes in their bodies are scared to go to suitable authority figures for guidance. They feel parents are judgmental and may exact restrictions should certain topics be discussed. Guidance counselors and family physicians appear too formal and may not be as easily accessible as they would like. These obstacles are removed while surfing Ask The Doctor. There is an air of secrecy, anonymity and privacy in the site that is reassuring to the teenagers.
Since the internet and its usage as a top health source is not going away, Ask The Doctor believes that the way forward is to keep having top healthcare professionals come on board not only to help teenage girls but everyone looking for quality medical advice online.
With some funding under their belt, Ask The Doctor is continually growing its team of board certified doctors to help the teenagers and adults of this world.