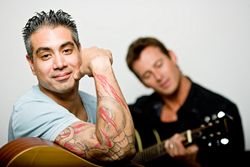 Fort Lauderdale, FL (PRWEB) April 22, 2014
For Dyce Kimura, guitar is a passion, a career, and a hobby. He says it is also the most powerful way to express his faith and connect spiritually with others. "I see people in church who are really good at praying, interpreting the bible, and giving sermons, and those are all the ways they express their faith in God. But for me, it has always been music that enriched my faith."
Dyce Kimura has been offering Fort Lauderdale guitar lessons to his community for many years, hoping to inspire the same love of music in his students that he discovered as a child. As he began to teach, he encountered a multitude of students who were interested learning guitar for the primary purpose of becoming worship leaders. That's when he saw a need he could meet, and an area in which he could contribute valuably to the faith community. "I am a worship leader in my own church, and I had people of all ages coming to me wanting to learn Christian worship songs. I realized that this is what I was being called to do, so I started teaching worship music in addition to the songs I traditionally teach."
Dyce Kimura recently made the announcement that anyone who would like to learn Christian worship music as a means of leading their churches could receive a 50 percent discount for their first lesson. He felt the demand warranted the promotion – this was clearly a population that could use the power of guitar to spread powerful messages. Because he had the knowledge, drive, and experience, he knew he could help. He also elaborated a bit on the types of worship music he expects to teach. The Fort Lauderdale guitar teacher said that he will try to cover a multitude of songs and styles, using chords and strumming patterns for both traditional hymns and the music more often used in contemporary services by satellite churches. Covers of songs by Chris Tomlin and other well-known contemporary artists were also mentioned as a significant part of the planned teaching curriculum.
In addition to Fort Lauderdale guitar lessons, Dyce Kimura enjoys conducting lessons via Skype. This not only enables him to have a far-reaching student base, but it also cultivates connections among his students. Skype allows them to interact with one another and practice together. It is also an efficient means for them to share feedback, and to offer encouragement and support – all of which are necessary to thrive musically.
Dyce Kimura teaches Skype guitar lessons to students of all levels of expertise, and in various styles, via in person appointments and Skype sessions.
Contact:
786-457-3687