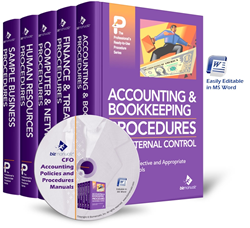 Saint Louis, MO (PRWEB) April 07, 2014
Chief Financial Officers can now instantly download the most comprehensive set of CFO policies and procedures available today from the worldwide business policy and procedure experts at bizmanualz.com.
The CFO documentation has been expertly researched and authored by leading accounting subject matter experts and is now ready for immediate download. CFO Executives, entrepreneurs, financial accounting managers, and business leaders will save time researching best practices and writing procedures by simply downloading the CFO Financial Accounting Policies and Procedures Templates from bizmanualz.com.
Now you can quickly develop and implement financial accounting policies, procedures, and forms for any organization, and enjoy considerable savings using this set of pre-written, Microsoft Word editable business best practices. The five-manual CFO bundle covers your most important accounting cycles from raising cash and managing assets to the daily management of purchasing, receivables, IT Security, and hiring or terminating employees.
Five financial accounting manuals are included:
1. Accounting Policy Manual
2. Financial Policy Manual
3. Computer and IT Policy Manual
4. Human Resources Policy Manual
5. Company Policy Manual
With hundreds of professionally written financial accounting policies, procedures, templates – and supporting forms, checklist and documents – the CFO Policies and Procedures Manual Templates help CFO managers obtain financial accounting best practices in a comprehensive and cost-effective manner. Stop thinking about about spending thousands of hours authoring financial accounting policies and procedures; just use the expert Microsoft Word accounting documentation from bizmanualz.com – faster than doing it yourself.
Developing your own financial accounting Policies and Procedures Manual can be demanding, and that's why it's important to obtain the best accounting Policies and Procedures documentation available. Instantly download the CFO Policies and Procedures Manual Templates, designed for any CFO manager seeking financial accounting best practices to operating a business.
Bizmanualz has been at the forefront of delivering lean ISO Quality Management Systems and business process improvement services to help business owners achieve the growth and expansion they foresee. Bizmanualz policies and procedures are available by calling 800-466-9953 (outside the U.S. call 314-863-5079); faxing 314-863-6571; e-mailing sales(at)Bizmanualz(dot)com; or logging on to http://www.Bizmanualz.com.