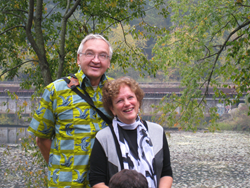 The Earth Preservation Fund is a natural extension of the Journeys mission.
Ann Arbor, MI (PRWEB) April 04, 2014
To honor its roots in Earth Day, tour operator Journeys International announces an April-long fundraising campaign in support of conservation projects in its travel destinations. Journeys will match all donations to the nonprofit Earth Preservation Fund during the month of April. Journeys' partners around the world will nominate grassroots conservation projects in their own countries to benefit from a grant. Then, on Earth Day, April 22, travelers can vote online for which project to support with the funds.
Journeys International was founded by Joan and Will Weber in 1978. The couple, now married for 39 years, met in 1970 while planning the celebration of the first Earth Day at the University of Wisconsin – Madison. Their shared commitment to sustainability led them to work as volunteers in Nepal in the early '70s, and then to start Journeys International. "Our most important goal," shares Will Weber, "is to foster mutual learning and growth by introducing travelers to local people and connecting them with wild places." The company creates private and small-group guided adventures that protect the natural environment and support traditional cultures in 60 destinations worldwide.
In 1980, the Webers started a non-profit organization, the Earth Preservation Fund (EPF), to better support conservation in the destinations where Journeys operates trips. The fund funnels donations to grassroots projects run by individuals in Journeys destinations. The EPF aims to benefit small projects that need small grants and may be overlooked by large foundations and NGOs. "The Earth Preservation Fun is a natural extension of the Journeys mission," says Joan Weber. "Travelers first support local conservation just by visiting, but the EPF lets them extend their impact by contributing much-needed additional dollars to support the inspiring work of the individuals they meet on their trips."
In addition to its April fundraising initiative, Journeys International will honor Earth Day in a number of ways this month. Each staff member will make a personal conservation commitment, the company will kick off a yearlong Impact Analysis Initiative, and discussions will occur around key issues of sustainability. Join the conversation about conservation and find out more on the Journeys blog and Facebook page.
About Journeys International
Journeys International is the longest standing family-owned global ecotourism company in the US. Journeys offers full-service exotic, guided cross-cultural explorations, nature safaris, treks and eco-tours in remote corners of Asia, Africa, the Americas and the Pacific. Founded by current directors Will and Joan Weber in 1978, Journeys boasts an extraordinary record of client and staff satisfaction and several industry awards.