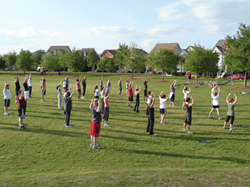 (Daniel Island's) mild climate, diverse recreational amenities and extensive parks and trails attract people who want to ... be active. Hiring a recreational coordinator is part of our plan to help meet the demands of our fitness-oriented community.
Charleston, South Carolina (PRWEB) April 04, 2014
When it comes to opportunities for fitness and healthy lifestyles, Daniel Island, a 4,000-acre master planned community in Charleston, SC, offers the ultimate location. Hundreds of acres of parks, 18 miles of fitness trails, 23 miles of rivers and creeks, multiple fitness centers, award-winning professional tennis and soccer facilities and more provide virtually endless possibilities for health and wellness within the idyllic small town community. But that hasn't stopped the community's property owners' association from taking fitness programming to the next level. The organization recently hired a new recreation coordinator and is in the midst of launching a host of new fitness programs designed to get its already active residents up and moving in a variety of new ways.
"Daniel Island is the ideal picture of a healthy community," says Jane Baker, Vice President of Community Services at the Daniel Island Property Owners' Association. "Our mild year-round climate, diverse recreational amenities and extensive parks and trails attract many people who want to get outside and be active. So when we recently surveyed residents about the types of programming they'd like to see offered, it was no surprise that the response was overwhelmingly skewed towards requests for additional opportunities for fitness and outdoor recreation. Hiring a full-time recreational coordinator is part of our plan to help meet the demands of our fitness-oriented community."
Since joining the staff at the Daniel Island Property Owners' Association last September, recreation coordinator Dani Hermann has hit the ground running by developing a variety of new fitness programs for residents. The self-proclaimed fitness enthusiast earned a Bachelor of Science Degree in Exercise Science from the College of Charleston and is enthusiastic about sharing her love and knowledge of fitness with the residents of this small-town community. Her first effort - a new morning walking club – is a simple program for all abilities and ages that combines physical exercise and helpful resources for living and eating healthier with motivational support. The free program, called "Walk with Me," meets weekly.
"My goal is to create and implement programming that will enhance the community physically, artistically and intellectually," said Hermann. "The 'Walk With Me' program gets people up and moving in the morning and stresses the importance of exercise. Each week I bring a new recipe and provide health tidbits and random facts. We really walk and talk about fitness - it's a great group."
After each morning walk, Hermann gives participants a breakdown with the number of miles they walked and the average amount of calories burned.
The community's new Circuit Training Workout is designed for residents who are looking to step up their fitness even more. The class meets twice a week at the island's Pierce Park Pavilion, a picturesque spot overlooking an expansive marsh and the Wando River.
"We do full body, upper body, lower body and abdominal exercises," says Hermann, of the customized and always-changing workouts. "It's all kind of mixed in. Sometimes we'll use ladders and medicine balls – the goal is to keep it interesting and keep people motivated."
Another community fitness initiative is designed to help residents take advantage of the 23 miles of rivers and creeks that surround and define Daniel Island. The Daniel Island Property Owners' Association has invested in a small fleet of kayaks and stand-up paddleboards that are made available for residents to actively cruise the island's waterways. Residents can rent them for a few hours or a few days - all for very nominal fees.
Other resident fitness programs in the planning stages that are scheduled to launch this year include yoga classes, water aerobics, sailing classes and special fitness activities for teens. And this fall, the property owners' association plans to launch a kickball league designed to combine fitness, social interaction and a bit of friendly neighborhood competition.
The new programs add to an already impressive roster of established fitness and wellness-oriented opportunities on Daniel Island, a relatively new community designed around traditional planning principles that emphasize walkability and small town values. The island's professional tennis and soccer facilities provide venues and programming for children and adults. The Daniel Island Club, the island's private country club, offers golf, tennis, swimming and fitness programming for members. And the island's fitness centers include membership-based gyms, a CrossFit program, a popular Hip Hop dance and aerobic studio, karate studio, yoga, pilates and more.
According to Baker, the benefits of the island's comprehensive fitness opportunities make Daniel Island a healthy community in more ways than one.
"A community of healthy residents is a productive community that thrives on all fronts," she says.
"I hope residents understand the importance of being fit and healthy not only for themselves, but for everyone surrounding them in the community," adds Hermann. "The more fitness you have, the happier you are and the more productivity you have."
About Daniel Island:
Located within the City of Charleston, Daniel Island is a 4,000-acre island master planned community featuring traditional neighborhoods, award-winning golf and tennis facilities and an outstanding collection of amenities in a self-contained island town setting. The island's downtown is home to schools, churches, medical offices, boutiques, restaurants, banks, a supermarket, two professional sports stadiums and many other attractions and conveniences. Twenty-three miles of rivers and creeks, hundreds of acres of parks, leisure trails and a private country club provide endless recreational options, and the community's central location within Charleston puts it within a 20 minute drive of the city's famous downtown historic district, area beaches and airport. A highly-desirable residential and recreational destination within Charleston, Daniel Island has been honored with numerous accolades including a prestigious "Award for Excellence" by the Urban Land Institute.