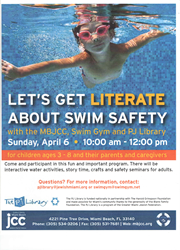 Miami, FL (PRWEB) April 05, 2014
Please join us on Sunday April 6, from 10 AM until 12 PM, to get literate about water safety with the PJ Library. Children ages 3-8 and their parents and caregivers are encouraged to participate in this fun and important program. There will be interactive water activities, story times, crafts and safety seminars for adults.
At this event only, those who attended will be offered $25 off any Swim Gym Class Registration, $50 off ECD Preschool Registration, $50 off Summer Camp Registration per child, and 20% off an all-inclusive membership to the JCC.
The event will take place at the same time at three locations:

The Alper Kendall JCC located at 11155 SW 112th Ave., Miami, FL 33176. The pool is located in building 6.
The Galbut Miami Beach JCC at 4221 Pine Tree Drive Miami Beach, FL 33140
The Michael-Ann Russell Aventura JCC at 18900 NE 25th Ave, North Miami Beach, FL 33180
For more information, please contact pjlibrary(at)jewishmiami(dot)org or swimgym(at)swimgym(dot)net.
Thank you and look forward to seeing you all Sunday!