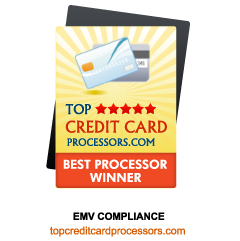 Addison, TX (PRWEB) April 05, 2014
Encore Payment Systems has recently been named by topcreditcardprocessors.com (TCCP) as the top payment processing provider in the area of EMV Compliance, and scored a perfect 100% in each of the five evaluation criteria. Encore is honored to have received the coveted #1 ranking for EMV Compliance among electronic payment processing companies.
TCCP is an independent authority on electronic payment processors in the United States. TCCP identifies the top 50 electronic payment processing companies through independent research on each company's business practices. TCCP ranks these companies based on their findings in several categories or specialties. Encore was scored with the #1 rank in the category of EMV Compliance. This honor recognizes Encore's dedication to EMV (Chip & PIN) compliance and security standards for both current and potential merchants.
Encore specializes in electronic payment processing services and equipment for small to medium sized businesses across the nation. Encore has been leading the electronic payment processing industry by staying at the forefront of the emerging EMV (Chip & PIN) technology. This EMV (Chip & PIN) technology is an advanced security feature slated to completely replace the magnetic stripe technology currently being used on electronic payments. The deadline for this replacement is currently set for 2016. Encore has been leading the way by introducing equipment and Point of Sale Systems capable of EMV (Chip & PIN) transactions and other advanced security features this year, far ahead of the 2016 deadline. This early roll-out is enabling Encore clients to offer advanced security transactions to their customers a full 2 years before the mandated deadline. This dedication to leading the industry and providing advanced security technology to their customers has earned them this prestigious #1 spot in TCCP's ranking.
About Encore Payment Systems:
Encore Payment Systems was established in 2004 for the purpose of providing electronic payment processing and business growth opportunities to small and medium-sized merchants throughout the United States. Since its inception, Encore has become a leader in the electronic payment processing field providing not only credit/debit card processing services, gift/loyalty programs and state of the art payment technology, but also a full suite of security products and services to help protect smaller merchants from potentially crippling security breaches like those seen with so many larger retailers. Encore was recognized as a pioneer in providing state of the art EMV secured (Chip and Pin) card acceptance by Digital Journal and was recently named #1 for EMV Security and card acceptance by TopCreditCardProcessors.com in addition to receiving awards in multiple other categories. Encore maintains a sincere dedication to superior customer service and an honest and ethical approach to acquiring new customers. This vision has enabled Encore to become one of the fastest growing companies in the industry excelling in all aspects of merchant services. In November of 2013 in a strategic move to expand the organizations footprint, Encore merged with EVO Payments International, a global industry leader spanning 39 countries and processing more than 30 billion dollars in transactions each year. Encore Payment Systems is located at 3801 Arapaho Road, Addison, Texas 75001. Visit us online at http://www.Encoreps.com for more information.