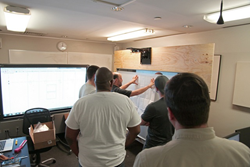 We are very pleased to be able to offer this important training in Smart Boards, the use of interactive whiteboards at NetCom Learning.
New York City, NY (PRWEB) April 07, 2014
NetCom Learning announces they recently held the first SMART Factory Install class which provides students with a working knowledge of using interactive SMART Boards including installing, and learning collaborative skills that will increase meeting and presentation productivity. NetCom Learning is now a vendor partner with SMART offering authorized training in the use and installation of SMART boards developed by SMART Technologies Corporation. SMART Technologies Corporation is a leader in the interactive whiteboard market on a worldwide basis. The company introduced their first whiteboard application in 1991 which was the first interactive whiteboard that worked with Microsoft Windows and offered touch control with applications.
"We are very pleased to be able to offer this important training in SMART Boards, the use of interactive whiteboards at NetCom Learning," said Russell Sarder, CEO of NetCom Learning.
The new collaboration skills acquired will enable users to instantly increase meeting productivity. This means teams will have the knowledge to enable faster and more effective decision-making using interactive whiteboard technology. The SMART Collaboration Enterprise Training Package includes physically installing an interactive SMART Board on a false wall and includes training using all the tools in SMART Meeting Pro software used for presentations, classes, or brainstorming sessions. The training includes software basics, using SMART Meeting Pro for presentations and brainstorming, Bridgit software meeting basics, and using appliance-based interactive displays.
Upcoming NetCom Learning SMART Collaboration Training include classes in New York on April 21, May 23 and in Calgary on June 26, 2014. The SMART Collaboration Training is available in traditional Classroom training, Live Online Training (LOT), intensive Boot Camp Training or in customized or private training.
Benefits of taking technical training with NetCom Learning
NetCom Learning is the most trusted name in both business and IT training and offers top notch instructors with an average of 16 years of experience and vendor approved coursework offering certification preparation for a variety of vendor certifications. NetCom Learning instructors routinely achieve high ratings from their students and possess an average of 20.5 years of experience and a cumulative average of more than 10,500 years' experience in the field of their expertise. Instructors carry an average instructor evaluation of 8.6 out of 9, one of the highest instructor evaluations in the industry. The high quality of training has resulted in over 2,150 testimonials and a 96% customer satisfaction rate with those customers indicating they would recommend NetCom Learning to others.
For more information on current NetCom Learning promotions or courses go to: http://www.netcomlearning.com
About NetCom Learning
NetCom Learning is an innovative leader in IT, business and executive training to companies, individuals, and government agencies. Since its inception in 1998, NetCom Learning has trained over 71 percent of the Fortune 100, serviced over 50,000 business customers, and advanced the skills of more than 81,000 professionals through hands-on, expert-led training, with the organization maintaining an average instructor evaluation score of 8.6 out of 9. NetCom Learning was recognized by Microsoft Corporation as its Worldwide Training Partner of the Year and named thrice to Inc. Magazine's list of fastest growing private companies in America. The organization was also recently named to the 2012 Top 20 IT Training Companies by TrainingIndustry.com and was named "Company of the Year" by the American Business Awards.
Like us on Facebook: https://www.facebook.com/netcomlearning
Follow us on LinkedIn: http://www.linkedin.com/company/netcom-learning
The purpose of NetCom Learning is to promote the values of lifelong learning.
For more information on SMART Collaboration Training or other NetCom Learning classes go to http://www.netcomlearning.com or Call us toll-free at 1-888-563-8266.