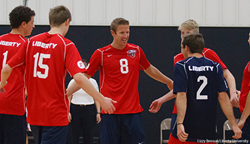 Lynchburg, VA (PRWEB) April 03, 2014
Liberty University's men's volleyball team upset No. 17-seeded University of California, Los Angeles (UCLA) 25-17, 25-23 in the first round of pool play in the Division I-A bracket of this week's NCVF Championships in Reno, Nev. This is the first time Liberty's team, which was ranked No. 41 going into the tournament, has been ranked and competed in Division I-A.
The Flames, a Club Sports program competing in the Eastern Intercollegiate Volleyball Association, have competed for more than 20 years.
"There's a great history in volleyball there (at UCLA) and I think we may have caught them by surprise, but we outplayed them and we were definitely the better team," said Liberty Head Coach Bryan Rigg, who on Wednesday was named the National Collegiate Volleyball Federation's Coach of the Year. "In the middle of the second game, we were down 19-13. We took a timeout and the guys got back in the game and ended up blocking about half of the final (12) points,"
For complete coverage of the Flames' run at the NCVF Championships, visit Liberty's Club Sports website.
About Liberty University
Liberty University, founded in 1971, is the largest private, nonprofit university in the nation, the largest university in Virginia, and the largest Christian university in the world. Located near the Blue Ridge Mountains on more than 7,000 acres in Lynchburg, Va., Liberty offers more than 350 unique programs of study from the associate to the doctoral level. More than 180 programs are offered online. Liberty's mission is to train Champions for Christ with the values, knowledge, and skills essential to impact tomorrow's world.
Liberty has 20 NCAA Division I sports teams and 32 teams in its Club Sports program. Visit http://www.Liberty.edu/Athletics for more information.