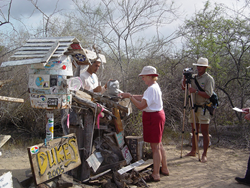 Win a Galapagos cruise.
Galapagos, Ecuador (PRWEB) April 04, 2014
The doctor and his patient, the Baroness and her lovers, the hired hand, the homesteaders, and maybe – just maybe – you. Metropolitan Touring has teamed with Zeitgeist Films for a contest to celebrate the release of the edge-of-your-seat documentary, The Galapagos Affair: Satan Came to Eden (see trailer here http://www.youtube.com/watch?v=Wf2txEIcg6E).The grand prize is a cruise for two in the Galapagos Islands on board the Santa Cruz.
Opening in theatres across the country now, The Galapagos Affair: Satan Came to Eden is quite a documentary film – with riveting true story to tell. In 1929, German doctor Friedrich Ritter (voiced by Thomas Kretschmann) and his lover/patient Dore Strauch (Cate Blanchett) ditched their spouses and headed to the faraway Galapagos – specifically Floreana Island – where they set up a homestead and raised their own food. They became international celebrities soon enough and soon had neighbors: First Heinz and Margret Wittmer (Sebastian Koch and Diane Kruger, respectively), then the flamboyant "Baroness" Eloise Wehrborn de Wagner-Bosquet (Connie Nielsen) with her two German lovers, an Ecuadorian laborer and eventual plans to build a grand hotel.
We don't want to give away much, but paradise didn't last long on Floreana. The island's inhabitants soured on each other, with two going missing and three ending up dead.
Meanwhile, back in the present: Go to http://www.zeitgeistfilms.com/galapagosaffair for the chance to win a cruise for two in the Galapagos Islands on the Santa Cruz, Metropolitan Touring's flagship 43-cabin expedition cruise ship. To enter, simply answer three questions correctly related to The Galapagos Affair. (Pssst: The answers can be found in the film's trailer, which can be found at http://www.galapagosaffair.com.)
Best of luck!
For more information or reservations to explore the Galapagos Islands with Metropolitan Touring, please contact Metropolitan Touring at 888-572-0166 or visit http://www.metropolitan-touring.com.
Zeitgeist Films is a New York-based distribution company, currently celebrating its 25th anniversary, which acquires and distributes the finest independent films from the U.S. and around the world. For more information about Zeitgeist Films visit http://www.zeitgeistfilms.com.