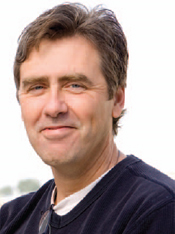 San Diego, CA (PRWEB) April 04, 2014
NewSchool of Architecture and Design (NSAD) is pleased to announce that Dr. Thomas Albright, President of the Academy of Neuroscience for Architecture (ANFA), Professor and Conrad T. Prebys Chair, and Director of the Center for the Neurobiology of Vision at the Salk Institute for Biological Studies, will deliver the keynote address at NSAD's 29th annual commencement ceremony June 14.
As president of ANFA, an organization NSAD has been involved with since ANFA's start, Albright advocates the promotion and advancement of knowledge that links neuroscience research to a growing understanding of human responses to the built environment. Albright's scientific research has placed him at the forefront of his field and it has direct application to the work of architects and designers.
"We are extremely honored to have Dr. Thomas Albright address our graduating class because his work brings attention to the power of architecture and design to inspire, heal and impact our world through the built environment," said NSAD President Gregory J. Marick. "The scientific research being done by Dr. Albright and his colleagues at ANFA and the Salk Institute speaks to the future of design through the use of evidence-based approaches to create highly relevant and desired spaces and experiences."
Albright's research addresses the brain bases of visual perception, visual memory and visually-guided behavior. He has received numerous honors for his work, including membership in the National Academy of Sciences, the American Academy of Arts and Sciences, and the American Association for the Advancement of Science. Albright is the inaugural holder of the Conrad T. Prebys Endowed Chair in Vision Research at the Salk Institute. Albright earned his undergraduate degree in Psychology at the University of Maryland, and his Ph.D. in Psychology and Neuroscience at Princeton University where he was also a post-doctoral fellow.
NSAD has long-standing ties to ANFA and regularly offers students the opportunity to study and research the connections of neuroscience and architecture . One of ANFA's founders is NSAD Professor and Dean Emeritus Gilbert Cooke. Cooke, who serves on the group's Board of Directors, teaches classes at NSAD and the University of California, San Diego on the topic of neuroscience and architecture.
NSAD's commencement will take place, as is traditionally done each year, at the Salk Institute for Biological Studies in La Jolla, Calif.
About NewSchool of Architecture and Design
Located in downtown San Diego, NewSchool of Architecture and Design (NSAD) prepares students for career success in design fields through an emphasis on interdisciplinary and global design skills, industry collaborations and real-world projects. The school's programs include architecture, construction management, product design and interior design. The school also offers programs in digital media arts, game art, game programming and animation. For the past two years, DesignIntelligence has ranked NSAD among the top 10 undergraduate architecture schools in the western United States in its publication "America's Best Architecture & Design Schools." The school's design environment provides inspiration for the school's students and faculty, recognized for their work regionally and internationally, and NSAD students are prepared to work in a global and diverse work environment through the school's collaborations with award-winning schools around the world such as Domus Academy in Milan, Italy and Media Design School in Auckland, New Zealand. NSAD is accredited by the Western Association of Schools and Colleges (WASC) Senior College and University Commission and the Accrediting Council for Independent Colleges and Schools (ACICS). NSAD's Bachelor of Architecture, Master of Architecture and Executive Master of Architecture programs are accredited by the National Architectural Accrediting Board (NAAB). NSAD is part of Laureate International Universities, a global network of more than 75 accredited campus-based and online universities offering undergraduate and graduate degree programs to more 800,000 students around the world. http://www.newschoolarch.edu/