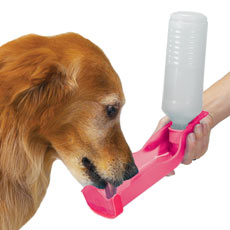 Doggy raincoats are a must-have item to prepare one's pooch for heavy spring showers.
(PRWEB) April 08, 2014
Here is Furry Travelers' list of the top 10 pet supply items for spring:
1) Snoozer Sporty Bike Basket
The Snoozer Sporty is a doggy bike carrier with durable microfiber, removable inner padding, and a comfortable chin rest for a pooch to enjoy a relaxing bike ride as much as its owner. With two side pockets for water bottles and a removable rain cover, this item is perfect for a spring cruise in the park, be it rain or shine.
2) Kurgo Winga™
The Kurgo Winga is an ingenious outdoor toy that allows owners to engage with their pet during playtime. With a durable rubber disc that can be launched up to 200 feet in the air, this is the perfect item for energetic pups to play with alongside their owners at the park on a sunny afternoon.
3) Car Seat Covers
With more time for muddy adventures and trips to the closest lake, river, or beach, Furry Travelers knows that every owner will put this Kurgo Co-Pilot Seat Cover to good use. Along with the other doggy seat covers available on its website, these items are invaluable for springtime activities by providing car seats with protection from muddy paws, dog hair, and unfavorable odors.
4) Raincoat for spring showers
Doggy raincoats are a must-have item to prepare one's pooch for heavy spring showers. Some dogs may love splashing in puddles, but this yellow rain gear will keep pets from getting completely soaked on walks throughout the spring. Plus, this accessory is just too adorable not to own and provides any owner with a great prop for a priceless doggy photo shoot.
5) Dog Water Bottle
The Handi-Drink is a compact, portable water bottle for pets on-the-go that has a patented rubber flow-control valve in the cap to prevent leaks, spills, and backwash contamination. It is available in three different sizes and includes a dispenser tray, belt clip, carrying strap, and hangtag for convenient transportation.
6) Doggy Backpack
The Day Tripper Backpack is a travel pack for pets to wear that features two zippered pouches that can be used to store dog supplies and toys in. Structured to adjust for balance load and padded for extra comfort, this rugged travel pack is perfect for hikes, camping, and other fun outdoor activities.
7) Dog strollers
Furry Travelers knows that pet owners on-the-go are often left missing out for their pets or troubled by having to leave their dogs home alone for public events, festivals, and gatherings. With the pet retailers vast selection of dog strollers fit for every type of dog and activity, owners can now bring their furry friends along without the worry.
8) Dog Carrier-Backpack
The SHERPA Back Pack is the perfect hybrid of a backpack and a dog carrier, used to transport pets from place-to-place, be it around town or the globe. It can be used as a handbag or shoulder bag, and fits comfortably under airline cabin seats.
9) Hands-Free Leash
Finally, a solution for active pet owners who enjoy taking their dog along for a run or brisk walk but hate having their hands in a bind. The Patento Pet Hands Free Leash wraps securely around the wrist, allowing owners to free up both hands so that they can jog with a more natural posture.
10) Dog Safety Harnesses
Whether used to keep hyper dogs from interfering with the driver, risking the safety of the vehicle's passengers, or to secure a dog for its own protection, Furry Traveler's dog harnesses are perfect for transporting pets on the road. The pet supplier offers several harnesses on its website with differing sizes, fit, and durability, so owners can select the right harness for their furry friend.
Furry Travelers is excited to offer all of spring's most coveted pet products on its website, available for purchase through its online store. From doggy rain coats to bike baskets, Furry Travelers has everything pet owners could want to maximize fun in the sun with their pooch.
To find more information about Furry Travelers, Inc., its To Go Bowl, or any of its other pet travel products, go to http://www.furrytravelers.com/, or contact Nancy Cribb with any further inquiries.
About Furry Travelers, Inc.:
Founded in 2007, Furry Travelers, Inc. began their business with the invention of the award winning To Go Bowl travel bowl for dogs, invented by president, Nancy Cribb. They quickly began adding pet travel accessories manufactured by other companies to FurryTravelers.com. Their mission is to offer practical, stylish and unique pet travel products to pet owners so more pets can go along - safely and easily.