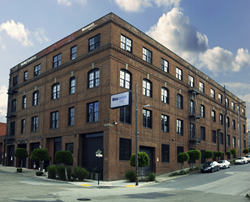 San Francisco, California (PRWEB) April 05, 2014
24/7 Van Lines, premium office movers in San Francisco, has announced that they will now be offering an all-inclusive package for commercial entities that has the included add-on (optional) amenity of the company providing an expert office manager moving assistant.
As a respected moving company that specializes in commercial moving, the goal is to help reduce associated stresses of an office move, which are typically shouldered by the office manager organizing the move, by assisting them and providing expert logistics during their relocation. The newly announced service will be available to customers in the near future, once the company has all of the necessary assets in place to facilitate the addition of this luxury amenity.
Thousand of company offices will utilize office movers in San Francisco every year for local, state and long distance relocation, according to Moving Authority. Since most office managers specialize in managing an office, and not in moving it, the stresses that are experienced by many persons in such managerial positions can be overwhelming at times. The objective of offering the all-inclusive option of a dedicated office manager moving assistant from 24/7 Van Lines is designed to curb these stresses by featuring ongoing professional assistance, guidance and logistics from experienced office movers in San Francisco.
"As prominent office movers in San Francisco for many years, we understand how trying a move can be for the office manager in charge of organization and execution," explained company spokesperson, Mark Tanning. "With this forthcoming amenity option, we hope to alleviate these associated stresses and provide a more streamlined move with strategic logistics available for our customers."
In the future, companies seeking office movers in San Francisco will have the option to add this valuable amenity to their moving package with 24/7 Van Lines. The company anticipates that this feature will be available for implementation sometime over the next 120 days.
You can learn more by visiting 24/7 Van Lines online.
About
24/7 Van Lines is a full service moving company that offers both residential and commercial moving services. The company offers standard rates, flat-rates and expedited, all-inclusive shipping options. As part of a brand new package, the company is set to offer a dedicated office manager assistant for office movers in San Francisco seeking company relocation to help expedite the process and reduce the associated stress commonly experienced by company employees while undertaking relocation.
Press Contact:
Mark Tanning
24/7 Van Lines
323-920-0048