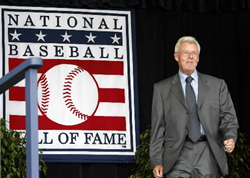 'I'm thrilled to use my favorite pastime as a way to raise much-needed funds for our Foundation, and most importantly to help kids in need,' says Gammons.
Boston, Massachusetts (PRWEB) April 04, 2014
Peter Gammons, three-time National Sports Writer of the Year, has partnered with Fame4Good, a new digital fundraising platform supporting the charitable efforts of professional athletes and sports figures through corporate donations, to send a lucky fan to Fenway Park as his guest. The campaign will raise money and awareness for Peter Gammons Scholars through the Foundation To Be Named Later (FTBNL), which raises money for nonprofits serving disadvantaged youth.
Fans can enter for free and will be automatically entered to win the unique VIP baseball experience with Peter, which includes two tickets to the Boston Red Sox versus New York Yankees game on Wednesday, April 23. The lucky winner and their guest will receive round trip airline tickets to Boston (if more than 150 miles from Boston), a one-night stay in a downtown Boston hotel, and will meet Peter on the field at Fenway Park to watch batting practice and talk baseball. After batting practice, the winner and guest will continue their VIP experience in great seats to watch the matchup of these historic rivals at America's beloved ball park.
Fans can help raise funds for the campaign for free, by visiting fame4good.com/campaign/peter and checking in often through April 16, 2014. The more times a fan "checks in" after entering the contest, the more opportunities they have to win, and the more money that corporate sponsors donate to the cause. The winner will be chosen at random and notified shortly thereafter.
"I'm thrilled to use my favorite pastime as a way to raise much-needed funds for our Foundation, and most importantly to help kids in need," says Gammons. "Fame4Good has provided a platform that allows us to continue to support the area's underserved youth, help send more disadvantaged young people to college and help support our non-profit partners."
Fame4Good has revolutionized the traditional fundraising model, using the web and a sponsor-driven model to give fans the chance to have the experience of a lifetime – all while supporting worthy charities. Fame4Good's sponsor-funding model allows celebrity athletes and sports figures to engage with their fans in a way that also brings attention to their important causes. Fame4Good partners with corporate sponsors who donate money to the charity campaign. Money is raised through fans' daily check-ins to the site, earning a certain amount of money based on how many times a fan checks in.
About Foundation to Be Named Later (FTBNL)
Foundation To Be Named Later (FTBNL) was launched in Spring of 2005 by Paul Epstein, a social worker in the Brookline public school system, and his twin brother, former Boston Red Sox EVP and GM and current Chicago Cubs President of Baseball Operations, Theo Epstein. Named after the MLB trade term "player to be named later", the mission of FTBNL is to raise funds and awareness for non-profit agencies, working on the front lines, serving disadvantaged youth and families. FTBNL invests in programs that teach leadership, education and healthy development of families.
FTBNL has given over $6 million in grants and in-kind donations to over 200 non-profit organizations and has sent approximately 4,000 children, who would not otherwise get the chance to go to a game, to Red Sox, Cubs and Celtics home games. The Peter Gammons/FTBNL College Scholarship (named in honor of Hall of Famer and FTBNL Champion, Peter Gammons) is the signature program of FTBNL and has sent more than 36 young people with high financial needs and high educational potential to the college of their choice. Each Gammons Scholar gets an adult mentor and a laptop computer to ensure college success.
For more information on Foundation To Be Named Later programs and events, or to make a donation, please visit or http://www.ftbnl.org.
About FAME4GOOD.COM
Founded by former Major League Baseball team executive, Louie Ruvane, in 2012, Fame4Good, which is based in San Diego, focuses on the unique connection between athletes and their fans. Witnessing the many positive interactions over the years, Ruvane set out to build Fame4Good which bridges the divide between fans and athletes in a way that brings new sources of funds and attention to celebrity-affiliated charities. For more information on Fame4Good, please visit http://fame4good.com