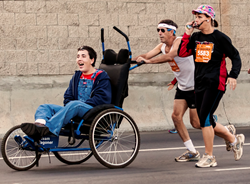 Colby has autism, hypotonia and is non-verbal, and running is one of the few things that reliably gets him visibly excited.
Burlington, MA (PRWEB) April 08, 2014
65-year-old Jim Wagoner is traveling by motor home from California to run the Boston Marathon pushing his son Colby, 18, who has physical and intellectual disabilities. Jim, an attorney from Fresno weighs 150 lbs, while Colby, at 6'3 and weighing 241 lbs, is nicknamed "Moose." Including his 80 lb wheelchair, Jim will be pushing more than twice his weight for 26.2 miles of a notoriously grueling course.
Jim is doing it for two reasons. He gets to support a bigger cause, the acceptance and inclusion people with Down syndrome, which he is doing even though Colby does not have Down syndrome. To date, the family has raised more than $50,000 for the Massachusetts Down Syndrome Congress. Also, Colby has autism, hypotonia and is non-verbal, and running is one of the few things that reliably gets him visibly excited. The Wagoner family will travel cross-country in a motor home because Colby doesn't like to fly on planes.
In one sense, the story of Team Wagoner is about physical strength and perseverance. Jim is 47 years Colby's senior. The way he describes it, Jim sort of backed into the extreme elements of the challenge. "I always figured I would stop running when I got too old or Colby got too big," he said, "and I haven't been able to admit either."
But at heart, Jim and Colby's story is about love and generosity. Jim has recognized that during their races Colby forgets about his disabilities and becomes an avid competitor. "He leans forward in his racing chair, sometimes rocking back and forth as if to help us along, smiles frequently, and expresses his excitement by flapping his arms and joyfully shouting to gain the attention of spectators and fellow runners," Jim says. "His elation during our races leaves no doubt in my mind that he genuinely enjoys the spirit and thrill of competition."
For Jim, the Boston Marathon, too, will be all about Colby. Since Colby doesn't do well on planes, Jim and Wendy will rent a motor home to make the trek east. His 11-year-old daughter will come along, and his adult sons and other family members will fly to Boston to cheer Colby on at the finish line.
Jim wants to be sure that Colby gets as much as possible out of running the historic 26.2 miles. He is working with the MDSC to station Team Wagoner fans at various points along the route to sing Colby's favorite song, "Happy Birthday," even though Colby's actual birthday is in July. "He gets very excited when he hears the song because people are singing happily and using his name," Jim says. "This will be a very special day for Colby."
Maureen Gallagher, Executive Director of the MDSC, said that in the wake of the Boston Marathon bombings, the organization wanted to put together a team that exemplified the Boston Strong mentality. "Jim and his son Colby exemplify that very kind of determination and pride that inspires others to do their best to overcome challenges," Gallagher said. "They are true champions of the Down syndrome community and can't wait to welcome them to Boston to run one of the most revered marathons in the world."
Jim has said that while Colby doesn't have Down syndrome, the MDSC's tagline, "Promoting Acceptance & Inclusion," resonates with his family's experiences. He calls the MDSC "an exemplary and highly regarded non-profit organization which helps families with children with all types of disabilities through the challenges of life."
Like so many loved ones of people with Down syndrome, Jim is focused not on what he has given to Colby but on what Colby has given him. "Colby is like a built in bottle of Windex," Jim is fond of saying. "He helps you see more clearly what is important, and to look for the good in people." Jim says that Colby has also taught him to slow down. Instead of being what he calls a "freeway guy," Colby has taught him to "ride the frontage road," he says.
On April 21 at least, for 26.2 miles, Jim and Colby will be looking to be back in the fast lane as much as possible.
Supporters can contribute to Team Wagoner at http://www.crowdrise.com/MDSC2014BostonMarathon/fundraiser/jimandcolbywagoner.
Why Support the MDSC?
Funds donated to the MDSC help us advocate for the fullest life possible for every person with Down syndrome in Massachusetts. Donations will allow the MDSC to fund our critical programs that affect the real lives of people with Down syndrome and other intellectual disabilities. This includes our signature Parent's First Call Program, a volunteer, state-wide group of trained parent mentors available 24/7 that is a national model; two major annual conferences that draw national and international experts in their fields; a Buddy Walk Program that gives individuals, schools, community groups, and local businesses an opportunity to get involved in fundraising campaigns and events year-round; and Self-Advocate Programs like Advocates in Motion, our Self-Advocate Advisory Council, and our newly launched Allen C. Crocker Self-Advocate Internship. These initiatives provide opportunities for teens and adults while making empowerment a central component.
Increasingly, the MDSC is exploring new ways to provide more services for adults with intellectual and developmental disabilities like Colby so that they, too, can lead fulfilling lives in the community. Whether in the realm of education, health care, social opportunities, or public policy, funds help the MDSC remain on the cutting edge of disability advocacy at a time when the MDSC's innovative, forward-thinking vision is needed.