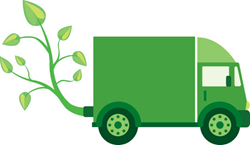 Charlotte, NC (PRWEB) April 04, 2014
Commercial Movers, green commercial movers in Charlotte, NC with a bio-diesel powered fleet of eco-friendly trucks, is pleased to announce that movers in this region now have more environmentally friendly options of transporting their items during relocation. Over the past few years, the company has embraced the ideology of going green and reducing its carbon footprint. Now customers, who want to move without impacting the ecosystem, can opt for a greener method of doing so.
According to numerous studies, bio-diesel performs better than ethanol, gasoline and standard diesel fuel. With a 100 percent usage ratio, it can eliminate almost all associated sulfur emissions. Studies have also shown that this alternative fuel helps to reduce carbon monoxide and other smog-creating noxious gases, including particulate matter, by nearly 50 percent. Bio-diesel also has been shown to reduce hydrocarbon emissions by as much as 70-90 percent in heavy-duty trucks.
As an environmentally conscious moving company, the objective of Commercial Movers is to present customers with a viable alternative to standard heavy-duty trucks that are powered by dirty diesel fuel. Now commercial movers in Charlotte have the option of using a green moving service for their company moving requirements.
"It's upon us all to embrace a more sustainable future that will preserve our planet for the forthcoming generations," stated company spokesperson, Tom Pinkus. "Our goal with upgrading our fleet to bio-diesel is in direct contrast to this mission statement. In addition, this fuel increases mileage and prolongs engine life—allowing us to pass these valuable savings on to our customer base. As society moves towards clean burning forms of sustainable energy, we are pleased to be in a strong position to help encourage these efforts by setting an example in the moving industry ourselves."
You can learn more about Commercial Movers and their entirely upgraded fleet of bio-diesel powered heavy-duty class 4-8 shipping trucks by visiting Commercial Movers online.
About
Commercial Movers, prominent commercial movers in Charlotte features a green fleet of heavy-duty trucks that are powered by environmentally friendly bio-diesel fuel to reduce emissions, carbon dioxide, particulate matter, and sulfur output. The company also has outfitted its fleet with low resistance tires to help reduce tire dust output that's harmful to the environment. As green-focused moving service, the company also extends the fuel savings (on miles-per-gallon) to their customers in the form of reduced and more competitive moving prices.
Press Contact:
Tom Pinkus
Commercial Movers
(424) 238-2070