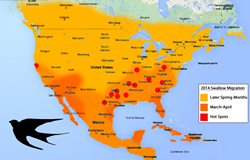 Humane prevention is the only way to protect properties from swallow damage. Once they've nested and laid eggs you can't legally do anything
Chicago, IL (PRWEB) April 04, 2014
Swallows build their nests exclusively on man-made structures and everyone has seen them – mud nests under bridges, behind roof overhangs, and of course in barns. As the long winter finally clears, these little birds are actively migrating north by the millions at this moment.
Once barn swallows land and built nests, federal law prevents their removal.
"Barn swallows are one of the most common pest birds we deal with at Bird-X because humane prevention is the only way to protect properties from swallow damage. Once they've nested and laid eggs, you can't legally do anything until the babies hatch and leave the nest," stated Josh Pierce, National Account Manager of Bird-X, Inc.
It is "illegal for anyone to take, possess, import, export, transport, sell, purchase, barter, or offer for sale, purchase, or barter, any migratory bird, or the parts, nests, or eggs of such a bird, except under the terms of a valid permit issued pursuant to Federal regulations," according to the The Migratory Bird Treaty Act of 1918.
In other words, people can clear swallow mud nests when they are empty – and only when they are empty. Nests cannot be moved or destroyed with eggs or chicks inside, and humans must wait for the chicks to leave until removing them… and deal with the mess, the noise, and when they do leave, the building damage.
As of April 2014, most northern areas are not yet affected, but will be soon. Bird-X recommends that people living in areas that will see swallows soon take action immediately to protect their properties.
The first thing to do is remove any old nests that are still sitting around. Swallows live up to 8 years, pack together as families, and usually return to old nests (if they are not too full of mites). Clean off all residue, droppings, feathers, or other signs of swallow-territory with a soapy solution and consider repainting areas to fully remove their territorial scent marking.
The next step is to apply a barrier. There are several options – the most effective is bird netting, which works 100% of the time when applied correctly. Bird-X sells multiple kinds of netting to meet different needs.
If netting is not an option, Bird-X has also seen success over the years with ultrasonic devices when used in enclosed areas (such as covered patios and barns). Ultrasonic frequencies are silent-to-humans but are annoying to swallows and encourage the birds to avoid treated areas. Taste diversions and laser light displays can also help – read more on Bird-X's webpage focusing on swallow control.
By getting a head start on barn swallow prevention, buildings and other properties can be kept clear of mud nests year-round.
About Bird-X:
Bird-X, Inc. is the leading brand of humane pest bird control worldwide since 1964 and is dedicated to protecting human health, wildlife and the environment in which we all live. The Chicago-based company manufactures a complete line of unique pest control products with an unmatched focus on quality, efficacy, and customer service.