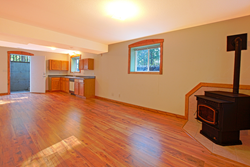 A basement or attic remodel is indeed a smart investment on several levels
San Francisco, CA (PRWEB) April 08, 2014
Christopher Wells Construction, a San Francisco area remodeling contractor, recently announced the release of its 2014 Home Investment Package for homeowners looking to increase their living space and add financial value to their homes.
The Home Investment Package offers homeowners up to $1000 off selected remodeling services, including a remodeled kitchen, bath, living area and more. Bay Area residents who are planning a residential remodel in the spring or summer of 2014 can apply this time-sensitive offer to their upcoming projects.
"Now is a good time San Francisco homeowners if they want to remodel. They can recoup their financial investment on various home renovation projects," remarked Chris Wells, owner of Christopher Wells Construction.
For many, residential remodeling options may seem quite limited, especially due the perceived expense to undertake a quality remodel, said Wells. "San Francisco homeowners often think of the high cost of adding more space by building up or building out," Wells said. "It's true, a second story or a new addition is always going to be out of reach for a lot of people, but there are other cost-saving options available that few are aware of." Wells went on to mention that an unfinished basement unit or attic apartment can be converted into a new bedroom with bath or even a home office at a price that is significantly less than the traditional "up" or "out" remodeling approach.
In fact, Remodeling Magazine's 2014 Cost vs. Value Report highlights many alternative San Francisco remodeling projects that recoup their costs. In San Francisco, an unfinished attic that's converted into a bedroom with bath, including four new windows and closet space, recoups 135.2 % of its value, according to the report. A basement remodel that includes an entertaining area and full bathroom recoups 117.8 % of costs.
"Think of it this way," Wells explained. "If you were to sell your home, given either of these scenarios, its resale value would pay for the remodel and earn you a healthy profit." A basement or attic remodel is indeed a smart investment on several levels, Wells added. For those needing additional living space, an attic or basement conversion provides extra space and greater comfort. And for those planning on putting their home on the market, the investment will be reimbursed once the home is sold.
Wells went on to say that kitchen and bathroom remodels in San Francisco are still the most popular home remodeling projects. And they, too, offer a strong return on investment. A renovated kitchen in San Francisco will recoup 111.7% of its costs; a bathroom remodel recoups 136.5%. SF bay area residents may also want to consider at minor kitchen remodel. It recoups 146.6% of costs and includes refacing cabinets, installing energy efficient appliances, and adding new flooring and countertops, among other things.
With the SF Bay Area housing marketing on the rise," Wells concluded, "now is a good time to invest in a better quality of life."
Christopher Wells Construction has been serving SF Bay Area homeowners as a remodeling contractor since 1984. The company specializes in all aspects of remodeling: from planning and design to the construction of additions, individual room renovations and whole-house remodels.
Contact Information
Christopher Wells
Christopher Wells Construction
415-469-7116
http://www.christopherwellsconstruction.com
###