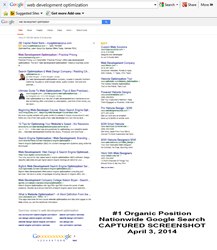 "Web Development Optimization works well in 94 percent of the projects I take on!
Rockledge, FL (PRWEB) April 04, 2014
Practical Pricing specializes in web development optimization. Read testimonials from business owners using web development optimization.
Practical Pricing now offers to bundle optimization during web development at no additional cost.
Bundling optimization during web development is brilliant, because the business saves time and money.
By bundling optimization with web development, the website goes live sooner, the business avoids funding a recurring SEO campaign, and the resulting leads from the website generate more revenue.
Each web development optimization task is performed by Manager, Kevin A. Stagl of Rockledge, Florida.
Stagl has proven skills designing, developing, and optimizing websites since 1998.
Under Stagl's management, Practical Pricing is working two shifts each day, from 6:00 a.m. until 8:00 p.m., six days each week.
Stagl has developed websites directly for business owners and consults for other firms who contact Stagl seeking guidance on difficult optimization projects.
To discuss your particular website needs contact Practical Pricing at 321.848.0399 today.