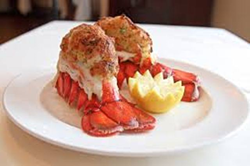 (PRWEB) April 05, 2014
As Easter approaches, thoughts begin to emerge around creating that special dinner - and, getting closer, thoughts turn into exciting plans. Imagine planning how this elegant, unique dish of Maine lobster can grace the Easter meal and delight everyone around the table.
Easter Baked Lobster Tails, created by Chef Mac Arrington of GetMaineLobster.com, includes lobster, hardboiled egg, peppers and breadcrumbs, and is a baked lobster recipe that you have more than likely never tasted before. This recipe requires 30 minutes prep time, 20 minutes cooking time, and serves two – so simply multiply by how many dinner guests will be expected.
Ingredients include 2 large lobster tails, frozen or fresh; 1 tablespoon peppercorns; 1 tablespoon canola oil; 10 clove pieces; 2 bay leaves; 1 small onion, halved; 1 tablespoon salt; ½ lemon; 1 teaspoon cayenne pepper; ¼ cup minced shallots; ¼ cup small-diced celery; ¼ cup small-diced green pepper; 2 tablespoons chopped tarragon; 2 sprigs whole tarragon; 2 tablespoons butter; 1 egg, raw, beaten; 1 hardboiled egg, minced; cream as needed; 1 cup breadcrumbs; 3 dashes hot sauce; 1 stick butter, melted; salt and freshly ground black pepper to taste.
To prepare, first preheat the oven to 350 degrees.
In a large pot of water add peppercorns, cloves, bay leaf, onion, salt, lemon and cayenne and bring to a boil. Once the water has come up to a boil, add in lobster tails and cook for 8 minutes. Transfer to ice water to shock and cool. Carefully split the tails with a knife lengthwise and remove the meat without breaking the shells. The shells will be used as "baking dishes" for the lobsters, so try to keep them in good condition.
To hard boil the egg, place it in a small pot, covered in cold water. Bring to a boil and cook for 9-10 minutes. Remove it from heat and cool down in cold water.
In the meantime, in a large sauté pan melt the butter with 1 tablespoon canola oil over medium high heat. Add in shallots, peppers and celery and sweat until translucent and aromatic, seasoning lightly along the way to develop full flavor.
Roughly chop the lobster tail meat and combine with sweated shallots, celery and peppers in a mixing bowl.
Add in the tarragon, hardboiled egg, raw egg, half of the bread crumbs, salt and freshly ground black pepper to taste, hot sauce and enough cream to bind everything together.
Lay the split shells on a baking sheet and evenly distribute the lobster mix into the shells and pile high. Top with the rest of the bread crumbs (seasoned with salt and pepper) and place in the ovento bake for 20 minutes until cooked and golden brown.
While the lobsters bake, melt 1 stick of butter with 2 sprigs of tarragon.
Once the lobster tails are golden brown and delicious, remove from the baking sheet and drizzle with melted tarragon butter and serve with favorite side dishes. Enjoy!
About GetMaineLobster.com
GetMaineLobster.com, a division of Black Point Seafood and Black Point Gourmet, hand-selects the finest Maine lobster, seafood and beef products for convenient distribution throughout the United States. Their passion is to make fresh, quality seafood readily available to customers across the country, which is why they buy from only the most trusted, well-established suppliers to ensure that they receive the finest products available.
GetMaineLobster.com was selected out of the more than four million small American businesses served by Chase bank to represent its new Platinum Business Checking product for its 2013 national advertising campaign.