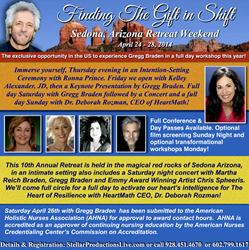 The Turning Point
Sedona Arizona (PRWEB) April 08, 2014
Kelly Alexander is bringing her Holistic Rehab Center experience and methodologies to the 10th annual Gift In Shift Conference at the Sedona Creative Life Center April 24, as the Friday night Keynote Speaker. The event takes place at 333 Schnebly Hill Road, Sedona, Arizona. Tickets are available for purchase at http://stellarproductionslive.com/tickets.html. Kelley will be exploring the new science of addiction recovery; specifically, how we become addicted not only to external stimulus, but more importantly to our own internal limiting and disempowering beliefs.
Kelly is the Co-Director of The Sanctuary holistic rehab center in Sedona. She is also the Co-Creator of Radical Transformation®, a four-step holistic program for addiction recovery. Kelly Alexander is an ordained minister and a Certified Shamanic Breathwork® Facilitator.
Kelly Alexander has a keen interest in esoteric, psychological and spiritual studies, and has a college degree in world religions with graduate work in psychology.
She has set her intent to be open to the unknown and to the possibility that her life could be amazing, joyful and purposeful. She left her law practice to become an energy practitioner. The Gift In Shift event is intended to facilitate a shift in direction for attendees and their families, as well as the community and world at large.
The interactive Gift In Shift Conference joins together the thought and energy leaders of our day to discuss and celebrate when crisis can become transformation. Author Gregg Braden will also be on hand to share his new book "The Turning Point". There will be others as well, including songwriter Martha Reich Braden , and Chris Spheeris who will come together with Greg for a once in a life time Saturday Night Concert.
The Creative Life Center is a venue for spiritual and creative growth programs. The staff continually works with speakers, teachers, authors, musicians and artists to help make their programs and knowledge available to the public. Kelly's' participation as the Keynote Friday night speaker is a popular draw to those who know of her holistic rehab center experience in Comprehensive Energy Psychology.
Learn more by visiting http://stellarproductionslive.com/