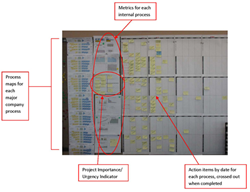 Lean Thinking, reduces an organization's reliance on procedure documentation
Saint Louis, Missouri (PRWEB) April 08, 2014
Bizmanualz, Inc., a business process management and lean ISO consulting company, announces a new way for companies to receive ISO certification using lean methods to reduce overhead.
The lean ISO approach allows for fewer procedures, documents, and overhead for smaller companies. Using lean, a company understands how to conform to the minimum document and record requirements and reduce the bureaucratic waste commonly associated with ISO 9001.
"Lean Thinking, reduces an organization's reliance on procedure documentation" explains Chris Anderson, Bizmanualz Managing Director and lean consultant. "A lean visual workplace focuses everyone on core metrics with trending and analysis that generates buy-in for change. A lean Corrective & Preventive Action Kaizen Process engages the workforce and communicates the latest improvements to employees."
The lean ISO process is broken down into four elements:

The process starts by evaluating a company's core business processes and establishing clear metrics and objectives for each process (ISO 9001: clause 4).
Next processes are aligned with customer's needs (voice of the customer) and the company's quality policy and objectives (ISO 9001: clause 5), and resources (ISO 9001: clause 6).
Next processes are aligned with production and service provisions (ISO 9001: clause 7) to conform with Good Manufacturing Practices (GMP).
And finally, processes must begin continual improvement, or conduct occasional internal audits (ISO 9001: clause 8).
Bizmanualz has been involved in implementing ISO Quality Management Systems for manufacturing, service firms, information technology, aerospace, distribution, medical device, and continuous process based companies since 1995. The company has worked with the Baldrige criteria, Missouri Quality Award, ISO 9001, ISO 13485, ISO/TS 16949, AS9100, FDA 21 CFR 820, and Sarbanes Oxley audits.
Bizmanualz has been at the forefront of delivering lean ISO Quality Management Systems and business process improvement services to help business owners achieve the growth and expansion they foresee. Bizmanualz ISO Internal Audit Services are available by calling 800-466-9953 (outside the U.S. call 314-863-5079); faxing 314-863-6571; e-mailing sales(at)Bizmanualz(dot)com; or logging on to http://www.Bizmanualz.com. Bizmanualz® is a registered trademark of Bizmanualz, Inc.