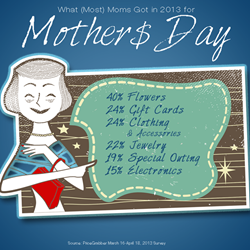 When it comes to Mother's Day sales, the challenge for local businesses is getting consumers off the internet and back into their stores.
Seattle, WA (PRWEB) April 04, 2014
Mother's Day presents retailers with an opportunity to get a share of the $20+ billion that consumers will spend on flowers, gifts, dining and other Mother's Day purchases.
Coming on the heels of a holiday season which saw more consumers shopping online than ever before, the challenge for local retailers will be getting local customers off the internet and into their stores.
Holiday sales often make up a disproportionate amount of annual revenues for a small business. Capitalizing on holidays like Mother's Day is crucial for independent retailers, who are often looking for fresh Mother's Day marketing ideas to help attract local consumers.
Though it might seem like the obvious goal would be to attract more local customers, retailers can also enjoy strong Mother's Day sales if they find ways to improve profit margins or increase the amount of the average sales ticket. These six Mother's Day marketing ideas can help a retailer multiply profits in 2014.
Promote Mom and Dad Combo Gift Offers
One of the big reasons people shop online is that it is easy and efficient. Appeal to the consumer's love of convenience by putting together a promotion that enables them to buy Mother's Day and Father's Day gifts at the same time.
Make it a Family Affair
Experiences and events designed for couples, families or extended families provide the most memorable gifts for all involved. By designing options for families to enjoy together, you can quickly multiply the amount of an average ticket.
Appeal to Special Interests
Consider donating a portion of all Mother's Day sales, or a portion of profits from sales of specific items to a charity of mom's choice or a cause that your target audience would be proud to help support. Give back programs often lead to local press coverage, additional social network sharing and other boosts to marketing efforts.
Focus on Females
Offering a free gift with purchase to female buyers or holding a female-focused event geared for moms to attend with friends can bring new customers in to your business in droves. In addition, in the days leading up to Mother's Day, post share-stimulating updates and photos on your social networks.
Reinvent Retail
Expanding retail to include items that are a sure-thing for Mother's Day for the season (or all year) can give new and former customers alike a good reason to come in and see what your business has to offer. In 2013, the top Mother's Day gift categories included jewelry, special outings, flowers, gift cards, and clothing.
Promote with a Partner
Promoting cooperative offers or cross marketing with businesses that have similar target markets can help to build brand awareness as well as credibility for both businesses (or all businesses that participate). These types of marketing partnerships can be beneficial on an on-going basis as well as for one-time promotions or specific holiday seasons.
***
Elizabeth Kraus is the marketing manager of business finance company DB Squared and the author of the 2014 Small Business Marketing Calendar: From Beginning to End, available on amazon.com.