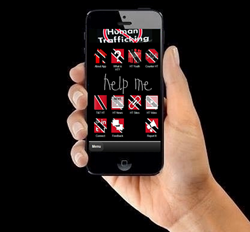 New York, NY (PRWEB) April 07, 2014
Situated just off the coast of Venezuela, the islands of Trinidad and Tobago have become a popular point for illegal activities on the trail from South America, bound for North America. Unfortunately, one of these is human trafficking.
In a call to action, the Caribbean Umbrella Body for Restorative Behaviour (CURB) this week launched a smartphone mobile app to drive prevention of human trafficking in Trinidad and Tobago and throughout the Caribbean Islands.
The free app, built using the AppMakr4NonProfits DIY mobile app builder is entitled 'Trafficking in Trinbago'. The app educates users on the extent of human trafficking in the region, including: how to identify, prevent and most importantly, report it.
The 'Trafficking in Trinbago' mobile app aims to prevent locals from falling prey to traffickers and being exploited in forced labour servitude. The CURB team made full use of the AppMakr platform, by including links, downloads and videos within the app to help users recognize signs of the crime, reasons why it might occur and how – including targeted information on work permits and due diligence specific to local youth, migrants and job-seekers.
Perhaps the most important feature of the 'Trafficking in Trinbago' app is the Report It button – a function that gives the option of immediately connecting to the user's iPhone or Android Smartphone with a selection of relevant law enforcement agencies, including the local police, Child Line and 800-TIPS as well as the option to directly email the Counter Trafficking Unit to report a suspected case of trafficking.
Trinidad and Tobago was placed on a human trafficking watch list last year, by the US State Department as a part of its June 2013 Trafficking in Persons report. Trinidad and Tobago was listed as 'a destination and transit country for adults and children subjected to sex trafficking and adults subjected to forced labour'.
Unconfirmed findings of the National Security Ministry states that victims of trafficking between June 2009 and August 2012 were 39 percent Venezuelan, 31 percent Colombian, 22 percent from Dominican Republic and eight percent from Guyana.
To mark Human Trafficking Awareness Day held on 25 March this year, CURB partnered with the National Library and Information Systems Authority (NALIS) in Trinidad and Tobago to host sensitisation training for front line library staff to understand, identify and respond to adult and child trafficking and the sexual exploitation of children.
Go to http://trinbagoapp.curbtrafficking.org to download the free Trafficking in Trinbago app.
For more information on CURB or human trafficking in Trinbago, please contact:
MR. ADRIAN ALEXANDER
(868) 316-0753
info(at)curbtrafficking(dot)org
http://www.curbtrafficking.org
For more information on how you can use the AppMakr platform to spread the word about your non-profit group, please visit:
http://www.AppMakr4NonProfits.com
ABOUT the Caribbean Umbrella Body for Restorative Behaviour (CURB)
CURB is the first and only Caribbean network of non-profit organisations working to assist and support criminal offenders, crime survivors and their respective families, and restore them to wholeness.
CURB is a leader in defending the rights of victims of human trafficking and continues to raise awareness regarding the violation of human rights through its End Human Trafficking campaign.
ABOUT the AppMakr4NonProfits Mobile App Creator Platform:
AppMakr4NonProfits is the Drag and Drop mobile app maker tool within the Infinite Monkeys family, oriented towards helping 501(c)3 and global non-profit groups to use mobile app technology to carry out their mission. The app builder provides groups an easy way how to create a mobile app for iPhone, Android, and HTML5 Smartphones, with zero coding.