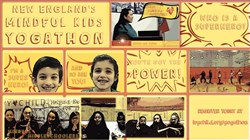 "Honored to unite our community in a global journey of yoga to help each individual unlock their true potential through mindfulness, a practice my family has shared for generations healthfully navigating the seasons of life."-Rose Pavlov,Ivy Child Founder
Worcester, MA (PRWEB) April 04, 2014
"Every child is a superhero." That is what Ivy Child believes and fosters through educational programs steeped in mindfulness, yoga, art and music. Cultivating the magical powers of confidence, self-esteem, balance and a perspective that this moment counts. New England's Mindful Kids Yogathon aims to educate, motivate and empower children and our community-at-large to combat violence, develop constructive outlets for stress, and build healthy habits for life. Children and youth who participate will learn about the benefits of yoga and mindfulness in coping with challenging circumstances and enacting positive social change.
DREAMERS, VISIONARIES AND CHANGE AGENTS OF ALL AGES are invited to attend. This is a family event and may also be of special interest to health professionals, educators and political leaders looking to support programs aimed at addressing children's health at large, and violence and stress reduction. Mayor of Fitchburg, MA and Ivy Child International Board Member Lisa Wong is the Chair of the event. Founder of Ivy Child, Rose Pavlov, states, "Honored to unite our community in a global journey of yoga to help each individual unlock their true potential through mindfulness, a practice my family has shared for generations healthfully navigating the seasons of life."
The event will feature world-renowned leaders in yoga and mindfulness such as Debbie Cohen, Founder of Core Yoga (Cambridge), Harvard University's leading yoga instructor and the force that brought yoga to Boston Public Schools. She has also taught Positive Psychology with Tal-Ben Shahar at Harvard University and at Kripalu Yoga Center; John de Kadt, a world percussionist, poet, and storyteller, who specializes in the fusion of inspirational poetry drumming with yoga, song, and dance; Shawn Shaw, Founder of the award-winning, Metrowest Yoga (Central Mass) studio and creator of the 'Myoga Hot Hatha' yoga style; Eve Costarelli Founder of Always Be Dancing, professional performer, instructor and choreographer who specializes in teaching flamenco, tap and yoga to children and youth; Jothi Raghavan, creative, certified yoga instructor and Artistic Director of the Nrithyanjali School of Dance. Jordan Grinstein of Kripalu Center for Yoga and Health will lead a Latin yoga blend. Diana Kamila, formerly at the Center for Mindfulness at Umass will lead mindfulness for caregivers. Learning from the Heart leads a program for children with special needs.
New England's Mindful Kids Yogathon is a program of Ivy Child International, an international, Worcester-based 501(c)(3) nonprofit, dedicated to "helping each child achieve their best" through mindfulness-based, health education programs. Our goal is to make New England a mindful region by rallying communities and generating waves of excitement and awareness towards a larger mindfulness movement - locally, nationally, and globally. Through this annual event, we aim to raise awareness about the need for mindfulness in schools, the workplace, homes, our everyday lives and the vital role it plays in reducing violence, stress, and other challenges our communities face. This is also a critical fundraising opportunity that will help expand Ivy Child's programs to communities and school districts.
Life happens in the present moment. Not in yesterday's worries. Not in tomorrow's what if's. Imagine a world where every child learned how to 'mind the moment'? Minding the moment means to celebrate the here and now. It means recognizing emotions as evolving and constantly changing. To be aware of how thoughts and feelings impact behavior. Ivy Child's programs are grounded in research and proven approaches. By providing children tools of mindfulness, meditation and yoga, kids learn how to gain better control of emotions. By quieting the worries of the mind, creating happier people.
About Ivy Child International: (Ivy Child) is a non-profit organization working to enhance the social and emotional well-being of children worldwide by recognizing their multicultural needs, and using education rooted in positive psychology as a uniting force to inspire resilience and leadership. Ivy Child develops innovative programming for hospitals, healthcare centers and schools, which feature yoga, mindfulness, meditation, music and art. Learn more about SUPPORTING Ivy Child's work here.