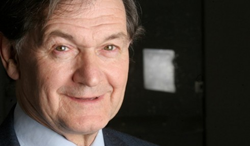 San Francisco, CA (PRWEB) April 04, 2014
Sir Roger Penrose, universally recognized mathematician, cosmologist, and physicist, will give a public lecture at the University of San Francisco (USF) on Monday, April 7 at 6 p.m. in USF's Presentation Theater, located at 2350 Turk Blvd. (between Masonic Ave. and Tamalpais Terrace) in San Francisco. This event is free and open to the public.
This lecture, Big Bang and Beyond: Is our world just one of an infinite succession of universes?, falls at a crucial point in scientific history. New satellite data is being heralded as one of the biggest breakthroughs in physics, confirming the "Inflation Theory." However, Sir Penrose disagrees with the interpretation by many inflation theorists. His April 7 lecture at USF will focus on this new theory about the history of our universe, and Sir Penrose's argument against it.
Today (Friday, April 4), Penrose will be a guest on Public Radio International's (PRI) Science Friday with Ira Flatow. The show hosts an informative discussion of science, technology, health, space, and the environment. Ira Flatow will lead the interview with Sir Penrose to examine his insights on cosmology and quantum mechanics, as well as Penrose's writings on the Big Bang and the brain.
Sir Roger Penrose has been recognized for his outstanding achievements in mathematical physics, in particular for his contributions to general relativity and cosmology. He is the recipient of numerous awards and prizes, including the 1988 Wolf Prize for physics, which he was awarded alongside Stephen Hawking, for their advancement of our understanding of the universe.
Penrose's New York Times best-selling books, "The Emperor's New Mind" (1989) and "The Road to Reality" (2004), have been translated into numerous languages to accommodate their high demand, and his "Cycles of Time: An Extraordinary New View of the Universe" (2012) discusses the radical new theory he will be describing in his USF lecture.
Currently, he serves as the Emeritus Rouse Ball Professor of Mathematics at the Mathematical Institute of the University of Oxford, as an Emeritus Fellow of Wadham College, and, most recently, as a Leverhulme Emeritus Fellow (2013-2015).
Registration is requested for Sir Penrose's April 7 lecture at USF. To register and learn more, please visit http://alumni.usfca.edu/s/1307/2col_social.aspx?sid=1307&gid=1&pgid=1808&content_id=2452.
About the University of San Francisco
The University of San Francisco is located in the heart of one of the world's most innovative and stunning cities and is home to a vibrant academic community of students and faculty who achieve excellence in their fields. Its diverse student body enjoys direct access to faculty, small classes, and outstanding opportunities in the city itself. USF is San Francisco's first university, and its Jesuit Catholic mission helps ignite a student's passion for social justice and a desire to "Change the World from Here." For more information, please visit http://www.usfca.edu.