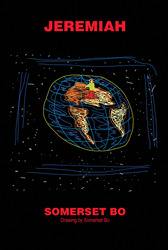 (PRWEB) April 07, 2014
Jeremiah is a young Australian searching the world over for peace. After travelling through war-torn countries and seeing the aftereffects of war, he questions the validity of war. Jeremiah briefly finds peace in a hilltop village, where he meets an old wise woman who tells him her life story. His belief in her and their mutual respect lead him to recover a stolen heirloom for her.
Everyone has a story to tell, and if one takes the time to listen, great insights can be discovered. This quiet novel sneaks up on you with its uplifting story.
Watch the video at: http://www.youtube.com/watch?v=hJXLlR32Zvw&feature=youtu.be.
JEREMIAH (ISBN: 978-1-62516-682-1) is now available for $14.97 and can be ordered through the publisher's website:
http://sbpra.com/SomersetBo or at www(dot)amazon(dot)com or www(dot)barnesandnoble(dot)com.
WHOLESALERS: This book is distributed by Ingram Books and other wholesale distributors. Contact your representative with the ISBN for purchase. Wholesale purchase for retailers, universities, libraries, and other organizations is also available through the publisher; please email bookorder(at)aeg-online-store(dot)com.
About the Author: Somerset Bo grew up in Victoria, Australia, and now lives in Alice Springs. Jeremiah was inspired by an heirloom Indian silver child's anklet the author wears as a bracelet. "This was passed down to me through my mother's side of the family when the English occupied India. I have often wondered if this anklet could talk, what stories it would have to tell." The novel is also inspired by her children's generation, and their world perspectives on living life with respect and gracious welcoming of all people. She is writing the sequel.
Strategic Book Publishing and Rights Co, LLC