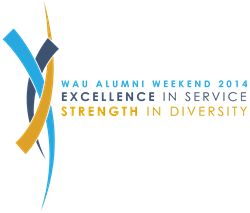 Washington D.C. (PRWEB) April 04, 2014
Washington Adventist University will celebrate its 110th anniversary during the 2014 Alumni Weekend to be held April 10-13, 2014. WAU's annual alumni weekends are a time for celebration and reflection of past graduates, departmental or program anniversaries, and the University's history as a faith-based liberal arts institution. The weekend will include socials gatherings for honor classes, anniversary celebrations for departments and programs, the Alumni Awards ceremony, outings in downtown Washington, D.C., and the annual WAU Family Fun Festival.
Recognizing Honor Classes: 1944, 1949, 1954, 1959, 1964, 1974, 1984, 1989, 1994, and 2004.
Schedule Highlights:
Kick-Off Social - Thursday
40th Anniversary Banquet for the Respiratory Care - Thursday
D.C. Cherry Blossom Tour - Friday
Reflections Vespers - Friday
Edyth T. James Department of Nursing Alumni Breakfast - Saturday
Worship Service - Saturday
Worship in the Park - Saturday
Academic Department Open Houses - Saturday
Alumni Awards Banquet - Saturday
WAU Missions 5K - Sunday
Family Fun Festival - Sunday (featuring Josh Wilson)
The Office of Alumni Relations, along with partners such as Eventos Management, are excited to welcome all alumni and guests to campus during this exciting and growing event.
Washington Adventist University is a private liberal arts institution located in scenic Takoma Park, MD. Founded in 1904, it is owned by the Seventh-day Adventist Church and offers a Christian education to nearly 1,500 students of all faiths, through eight graduate and 32 undergraduate programs. Its vision is to produce graduates who bring competence and moral leadership to their communities. The 2011 edition of U.S. News & World Report ranked the University among the best regional colleges in the northern region and as one of the most diverse institutions of higher learning in the US.
Eventos Management was founded to fill a need in providing a complete event service tool to both event planners and attendees. By combining event registration, hotel bookings and flight reservations all in the same platform, Eventos provides the most complete and comprehensive event management tool available. Not only does Eventos operate on robust technology, we make sure that we work with each client to maintain that level of customer service that you expect and deserve. We dedicate ourselves from beginning to end to do all in our power to ensure that your event happens smoothly, that we provide the necessary services, and that you and your attendees are happy with the outcome.
For more information on the weekend and to purchase tickets to events please visit WAU Alumni