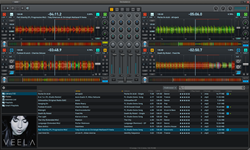 Control Deckadance 2.3 from your phone or tablet
(PRWEB) April 07, 2014
DECKADANCE 2
Deckadance 2 is Ideally suited to the evolving DJ scene with live-remixing as key; Deckadance 2 integrates the features more commonly found in DAW software such as FL Studio, Cubase or Live, used by producers to remix music. These features include loop-triggering and playback, automatable effects/GUI and VST plugin support.
WHAT'S NEW?

Image-Line Remote Support - Controller support from up to 15 Android and iOS devices.
New Smart Panels - EQ, Gain & Filter, Volume, Mix & Isolator, FX and Grossbeat.
Fixes bugs - Reported from Deckadance version 2.2.
Added MIDI script commands - PLAY_X, PHASE_SYNC_X, BEAT_ID_X, STANDALONE and TRACK_POSITION_X.
Support for ESI soundcards.
Fixed - Issues with soundcard sample rates >= 99.6 KHz.
Fixed - Synchronization problem with the Leap function in Snap mode.
Added - Automatic switching of MIDI ports between standard MIDI page and Scripts page..
VERSIONS AND PRICING
Image-Line has sharpened the deal to make Deckadance a no-brainer purchase for those looking to get into DJ remixing. Club and House editions have now been replaced as follows:
Deckadance v2 $79 USD (replaces House edition) - all features excluding DVS support.
Deckadance v2 DVS $149 USD (replaces Club edition) - all features including DVS support.
ABOUT IMAGE-LINE SOFTWARE
Established in 1994, Image Line Software provides high quality music applications to the computer-based music community and is well known for its leading digital audio workstation FL Studio (formerly FruityLoops), high quality synthesizers including Sytrus, PoiZone,Toxic Biohazard, Groove Machine, Harmor, Harmless, Morphine, Ogun and Sawer, a mix of innovative Effect plugins like Maximus and Hardcore and range of sample libraries used in their multi-sampler plugins DirectWave and Soundfont Player. FL Studio Mobile. The acclaimed DJ mixing software application Deckadance. In addition to its audio software, Image Line Software develops and distributes the web site EZGenerator.
For more information, please contact:
Scott Fisher, Communications Manager
Image Line Software
E-mail: press(at)image-line(dot)com
http://www.image-line.com/documents/news.php