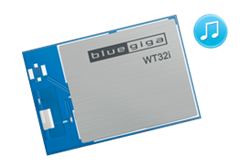 We think companies looking to offer Bluetooth audio solutions will find our WT32i a cost-effective, full featured Bluetooth audio module that is substantially easier to integrate than similar solutions on the market
Espoo, Finland (PRWEB) April 06, 2014
The WT32i is Bluegiga's newest Bluetooth Audio module offering excellent RF performance with +6.5 dBm transmit power while being fully pin compatible with Bluegiga's WT32 module for easy design migration. WT32i audio interfaces include analog, I2S, and SPDIF and software support for Bluetooth audio profiles including Advanced Audio Distribution Profile, Audio Visual Remote Control Profile 1.5, Hands-free profile 1.6 with Wideband speech, and Headset profile through Bluegiga's iWRAP software stack.
With its onboard DSP and iWRAP software stack, the WT32i features support for aptX® and AAC codecs for enhanced stereo audio streaming, and CVC® echo and noise cancellation for hands-free voice applications. For data and combined data/audio applications, the WT32i now supports Apple's iAP1 and iAP2 for iOS application communications as well as serial port profile for non-iOS device connectivity.
"We are excited to bring the WT32i to market with its enhanced audio features and excellent RF performance. We think companies looking to offer Bluetooth audio solutions will find our WT32i a cost-effective, full featured Bluetooth audio module that is substantially easier to integrate than similar solutions on the market," comments Mikko Savolainen, VP of Product Management.
Learn more about designing wireless audio solutions with Bluegiga's Bluetooth Modules in our free webinars.
APAC (Register)
Date: Monday, April 28, 2014
Time: 2:00 PM - 3:00 PM CST
USA (Register)
Date: Tuesday, April 29, 2014
Time: 11:00 AM - 12:00 PM EDT
EMEA (Register)
Date: Wednesday, April 30, 2014
Time: 1:00 PM - 2:00 PM BST
About Bluegiga Technologies
Founded in 2000 and headquartered in Espoo, Finland, Bluegiga is committed to providing innovative, easy-to-use, short-range wireless connectivity solutions to product designers throughout the world. Our competitive advantage comes from a unique combination of high performance radios, connectivity software, and superior customer support.
Our product line-up includes ultra-low power Bluetooth Smart modules, high performance Bluetooth Classic audio and data modules, and high-speed Wi-Fi modules. Bluegiga customers include industry leaders in consumer electronics, health and wellness, automotive aftermarket, sports and fitness, M2M and industrial telemetry.
To learn more about the new WT32i Bluetooth Audio Module and other Bluegiga products please go to: http://www.bluegiga.com/