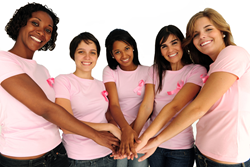 Lower incidence rates of breast cancer seen in South Asian & black women as compared with white women in England are largely, if not wholly, because of differences in known risk factors for the disease
London (PRWEB UK) 4 April 2014
Defining risk factors for any disease is the concept of identifying the triggers that will most likely contribute to people developing a particular disease. High cholesterol, blood pressure, obesity and unhealthy habits are all risk factors for heart disease and diabetes.
The range of risk factors listed for cancer, in its many forms, is quite large as each cancer variety may have a different set of risks. Of course, being exposed to any of these risk factors does not guarantee you will develop the disease, inversely; avoiding exposure to these risks will not give you immunity.
Some risk factors are brought about due to environment or lifestyle decisions that can be possibly changed to avoid certain diseases. If you do not use proper protection when out in the sun you risk getting skin cancer or if you are a regular smoker or you are constantly exposed to smoke then you risk developing cancer in internal organs such as the lungs, mouth or larynx.
Other risk factors involve fixed criteria such as aging, ethnic background or genetics. In cancer those who have a first-degree relative with cancer are much more likely to also develop cancer than those who do not have it in their family's health history.
Data collected by the Million Women study http://bit.ly/1mGC26R, a study that evaluated the lives of over 1,000,000 British women, aged 50 to 64, in a bid to understand the relationship between lifestyle and the quality of health, were recently examined by researchers from the University of Oxford and Oxford University NHS Trust who were investigating the risk factors for Britain's most common form of cancer.
Over the period of five years these participants filled out questionnaires regarding medical, social and living habits, giving insight to the cultural diversity and its effects on overall health.
When compared to data received from the NHS, the researchers were able to define the risk factors for women in each ethnic group. Surprisingly, white women showed the highest breast cancer rates with 45,191 out of 1,038,144 developing breast cancer, compared to only 217 out of 5,877 South Asian women and 180 out of 4,919 black women in the study group.
This means South Asian women had an 18% lower rate of breast cancer compared with white women, and black women had a 15% lower rate compared to white women.
The study, published in the January edition of the British Journal of Cancer, http://bit.ly/1lF1rk6 noted numerous differences in lifestyle risk factors such as diet and alcohol consumption, 75% of South Asian women were non-drinkers compared to 38% of black women and 23% of white women.
Another ethnic variation was the use of menopausal hormone therapy, with 6% higher usage in white women, which also affected the outcome of the results. Taking into account breastfeeding rates and the number of children women had, the risk of developing breast cancer was found to be similar for women of all ethnic groups. South Asian and black women had more children than white women and were more likely to breastfeed them.
Study author Dr Toral Gathani, from the University of Oxford, wrote: "These findings indicate that the lower incidence rates of breast cancer seen in South Asian and black women as compared with white women in England are largely, if not wholly, because of differences in known risk factors for the disease.
Once adjustments were made for risk factors including age at menarche, height, childbearing and breastfeeding history, alcohol consumption, and use of menopausal hormone therapy, South Asian and black women were shown to have similar breast cancer risks to white women." http://bit.ly/1kwC8Nf
Dr Julie Sharp, Cancer Research UK's head of health information, added: "Women can reduce their risk of breast cancer by cutting down on alcohol, keeping a healthy weight by eating a balanced diet and by keeping active. If women notice any changes to their breast such as lumps, any skin or nipple changes, or changes in their size, shape or feel they should tell their doctor straight away. It's probably not cancer, but if it is, getting it diagnosed as early as possible gives the best chance of survival." http://bit.ly/JKOTHu