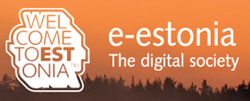 Estonia's message for the events is all about ambitious plans and innovation
Tallinn, Estonia (PRWEB) April 04, 2014
Estonia today is the most advanced digital society in the world based on a high level of IT integration for government systems, online services provision and usage statistics. The country's implementation of e-Tax, e-Customs, e-Health and i-Voting systems has revolutionized accessibility and quality of services for its citizens. The world records set demonstrate reduced bureaucracy and administration: 15 minutes to establish a company, three minutes to vote online or submit a tax declaration, and one phone call to the doctor to get medicine from a nearby pharmacy without a paper prescription. Almost everything apart from marriage, divorce and notary services can be done online, thus leaving more time for real living. As Estonia has so much to share, it will host the international information and communications technology week – Estonia ICT Week 2014 – in April.
Over the course of one week, from 23–30 April, different conferences and events will take place. The first Nordic Digital Agendas Day – dedicated to innovations and future plans in the field of information society, focusing especially on e-Government – will bring together government CIOs and experts from all over the Nordics. They will be sharing their main lines of activities and will introduce ambitious plans for the next ten years. Estonia is known for having the first e-Government and first successful implementation of the digital signature, and Denmark for their successful e-Invoicing system.
The IT conference – Change, Quick! – will focus on how other sectors can use IT to boost their business. Steve Prentice, who will present the keynote, has said that without digital technology, Estonia might still be just as small country somewhere in the Baltic region that many people would probably struggle to find on the map. Instead, Estonia today is an aspirational example for other nations.
The program of Latitude59 2014 will feature discussions on the challenges of startup growth and going global, talent acquisition strategies, finding follow-on investors and preparing for exits. The goal of the conference is to bring together innovators and startup entrepreneurs in Tallinn, Estonia to meet angel investors, VCs and those supporting the global expansion of startups, which are already today referred to as the "Estonian mafia".
Estonia's message for the events is all about ambitious plans and innovation. In 2014 the Global Information Society Institute will launch, and Estonia can then become the test-bed for the world. "Estonia is the perfect place for that, since we can test new solutions and insights quickly," explained Siim Sikkut, ICT Policy Adviser at the Government Office of Estonia.
Other plans include creating a unified digital market across countries and offering e-Residence. Estonia has already started cooperation with Finland and plans to do this with other countries as well. The bigger concept sees the Estonian service landscape functioning in the cloud, creating a country without territory.
Although current Estonian e-Society services are very innovative for many countries, there is a plan to introduce a no-legacy principle that would require renewing all the state IT systems and technologies after a certain amount of time, to keep in line with the ever-changing environment and development of technology.
Innovation is expected as well in the healthcare field. The Telemedicine and e-Health conference, held on 23–24 April, will cover themes from the best of two nations – Finland and Estonia – about e-Health trends and the latest advancements in healthcare technology. Participation gives an opportunity to understand the situation of e-Health between these two countries and to consider further cooperation.
Estonian ICT Week aims to contribute to cooperation within Estonia and worldwide. The events during ICT Week will attract public sector opinion leaders, entrepreneurs, risk investors and international media. More information about ICT week and events can be found on the e-Estonia homepage and event calendar. More news regarding e-Estonia, Estonian ICT and developments can be found via e-Estonia news.
Contact Information
Estonian ICT Demo Center
Lõõtsa 8, 113621 Tallinn, Estonia
Phone No: +3725045260