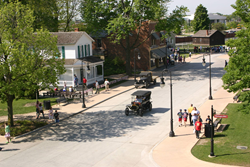 Dearborn, Mich. (PRWEB) April 04, 2014
The beginning of spring brings the reopening of Greenfield Village's gates just in time for Easter on Tuesday, April 15. New this season, see the renovation of the Greenfield Village Pottery Shop in the Liberty Craftworks district, a new coaling tower for the Weiser Railroad and play in the Donald F. Kosch Playground.
Inside the Liberty Craftworks Pottery Shop, guests can see the new salt kiln and renovated decorating area that was under construction for much of 2013. Visitors can see the newest additions to the barnyard family and watch as presenters in period dress hand-sheer the Merino sheep just as they did in the 1880s. Lend a hand at the Daggett Farmhouse in sorting, picking, washing, carding and spinning wool.
With opening weekend taking place the same time as Easter, see how Firestone Farm and Edison Homestead would have celebrated the holiday and take part in egg decorating activities. The Easter Bunny will also be making an appearance on Sunday, April 20 visiting Greenfield Village inside a Model T.
The first big weekend event of the season starts with a visit from Thomas the Tank Engine and friends as they roll through Greenfield Village for a Day Out With Thomas™: The Thrill of the Ride Tour 2014. The train departs every 30 minutes, so there will be plenty of chances to take a ride with Thomas and participate in Thomas and Friends themed activities. Additional tickets are required for a train ride.
Admission to Greenfield Village is free with membership or $24 adults, $22 senior (62 and up) and $17.50 youth (5-12). Children four and under are free. Ticket discounts for The Henry Ford are available at Meijer stores. For more information, call (313) 982-6001 or visit http://www.thehenryford.org.
About The Henry Ford
The Henry Ford in Dearborn, Michigan is an internationally-recognized cultural destination that brings the past forward by immersing visitors in the stories of ingenuity, resourcefulness and innovation that helped shape America. A national historic landmark with an unparalleled collection of artifacts from 300 years of American history, The Henry Ford is a force for sparking curiosity and inspiring tomorrow's innovators. More than 1.6 million visitors annually experience its five attractions: Henry Ford Museum, Greenfield Village, The Ford Rouge Factory Tour, The Benson Ford Research Center and The Henry Ford IMAX Theatre. A continually expanding array of content available online provides anytime, anywhere access. The Henry Ford is also home to Henry Ford Academy, a public charter high school which educates 485 students a year on the institution's campus. For more information please visit our website thehenryford.org.
# # #