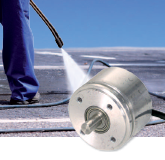 Compact 36mm incremental and absolute magnetic rotary encoders have been applied successfully in harsh applications that require a high level of environmental protection.
London, Ontario (PRWEB) April 10, 2014
TR Electronic has recognized the demand for an IP69K certified encoder, so we developed the industry's first magnetic IP69K encoder and put it to the test.
The 36mm encoder owes its IP69K rating to its press fit and potted (epoxy filled) construction. The sealed housing design means that the rotating shaft never actually enters the internal electronics cavity. The poled magnetic field in the rotating shaft passes through the encoder base and is received by the Hall Effect IC (magnetic principle) on the inside of the encoder. This technology makes the 36mm encoder series the optimal choice for users concerned with the ingress of solid or liquid foreign contaminants.
To receive the IP69K rating, the 36mm IP69K encoder was exposed to high water pressure of 80-100 psi at a temperature of 80°C. A function check was run before and after the test. The results were very clear; the encoder passed the test with no issue. ("9" stands for high pressure protection, and "K" stands for the high temperature of the liquid used [hot water]).
The 36mm series of advanced rotary encoders from TR Electronic are made up of incremental, absolute single and multi-turn rotary encoders. They are available with single-scan, or double-scan functionality. This encoder series also includes an incremental and absolute 36mm bearing free option that gives the customer the ability to mount an external magnet in the existing shaft and place the encoder on that shaft for wear free angular position feedback.
Product information and detailed information on the test results is available at http://www.trelectronic.com.