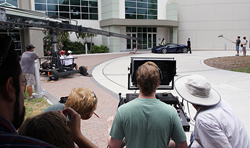 Sarasota, FL (PRWEB) April 04, 2014
Ringling College of Art and Design today announced that 'Lucky 6', the first feature-length film from the Ringling College Feature Film Project, as well as three Ringling College student-associated films — 'The Great Zombini', 'Woodland Dance' and 'No Real Than You Are' — are to be featured at the Sarasota Film Festival, which opens Friday, April 4th.
As the first film out of the Ringling College Feature Film Project, 'Lucky 6' was shot over 28 days this summer on nine different regional locations with 31 Ringling College students, nine FSU/Asolo Actors and 10 Ringling College alumni, faculty and staff. Tony Stopperan is Program Director and Executive Producer and Ringling Digital Film program head Bradley Battersby wrote and directed 'Lucky 6'. The film is about six employees of a tech startup winning a lottery jackpot of $120 million, splitting up and what happens when they reunite five years later under a slew of accusations from government agencies. Part screwball comedy and part heartfelt drama, the Lucky 6 is an avalanche of major life changes that lead the group to discover what is truly important in life. Film Festival showings are on Sun., April 6 at 12:15 p.m., Monday, Apr 7 at 6:45 p.m. and Tuesday, April 8 at 8:45 p.m. Click here for tickets.
The Ringling College Feature Film Project was launched in the summer of 2013 from the Office of the President at Ringling College to produce collaborative feature-length films to enhance the educational, artistic, and professional growth for Ringling College filmmakers and further both community and industry awareness. Ringling College launched the project in collaboration with the Florida State University/Asolo Conservatory for Actor Training, the first professional joint endeavor undertaken by the two organizations.
Three short films with Ringling College students and alumni in key roles will be featured at the film festival in 'Shorts 09: SRQ – A Showcase of Films by Sarasota Filmmakers!' on Tuesday, April 8th at 9:30 p.m. and Friday, April 11th at 2:00 p.m.
Ringling student Jeffrey Boos' film 'Woodland Dance' explores how with the fear of losing his daughter's love looming on his mind, a divorced father goes all out in an attempt to make amends for his past and to create a better future for his daughter and himself. 'Woodland Dance' was written directed and edited by Jeffrey Boos.
Ringling student Andrew Halley's film 'The Great Zombini' details how while performing a magic show, "The Great Zombini" is reminded of his past encounters with a local bully and how he then makes the impulsive decision to make the bully's child disappear – for good. 'The Great Zombini' is based on a short story by J. Robert Lennon and Lou Beach and was written, directed and edited by Andrew Halley.
In 'No Real Than You Are' filmmakers blend fact and fiction to raise awareness of the OxyContin epidemic in Florida. The story explores the life of a teenage Oxycontin addict and her family's pioneer past. The film was written and directed by Vincent Dale with Sebastian Baron as cinematographer. The producers include Ringling College senior Arash Zandi and alumni Kathryn Wilson and Van Jazmin. On Saturday, April 12th, there will be an additional special free screening for the public at 9:30 a.m. at Burns Court Cinema of two films about addiction - 'No Real Than You Are' and 'The Holding Cell' - presented by Brandi's Wish Foundation.
About the Sarasota Film Festival
Held annually in Sarasota, FL, The Sarasota Film Festival emphasizes the best in cinema alongside exciting programs and events, with more than 180 films screened each year including features, documentaries, shorts, and kid-friendly picks. Entering our 15th year, we're proud to bring the best new and veteran independent filmmakers to our Festival with local and kid-friendly programs that showcase our idyllic Gulf Coast community.
About Ringling College of Art and Design
Ringling College of Art and Design is a private, not-for-profit, fully accredited college offering the Bachelor's degree in 14 disciplines: Advertising Design, Business of Art & Design, Computer Animation, Digital Filmmaking, Fine Arts, Game Art & Design, Graphic Design, Illustration, Interior Design, Motion Design, Painting, Photography & Digital Imaging, Printmaking, and Sculpture. Located in Sarasota on Florida's Gulf Coast, the picturesque 48-acre campus now includes more than 110 buildings, and enrolls nearly 1,300 students. It is recognized as being among the best and most innovative visual arts colleges in the United States as well as a leader in the use of technology in the arts.