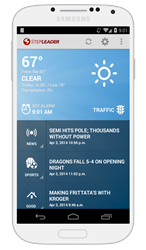 This is an opportunity to continue innovating for the entire local media industry.
Raleigh, NC (PRWEB) April 07, 2014
StepLeader, local media's leading mobile app platform, announces two new mobile products. The first app, code-named "Daybreak", revolutionizes mobile news consumption. Daybreak presents local audiences with only the most critical information relevant to their location, be it weather, traffic, breaking alerts, or top local stories. The second app offers local media their own privately branded, single-purpose traffic app.
Built upon StepLeader's Mobile Delivery Engine [MoDE] platform, these are the second and third new apps in the last 9 months to leverage their proprietary mobile infrastructure. MoDE empowers customers to deploy unique apps at unprecedented speed by consolidating to a single code base, automating the testing of over 700 app use cases, and automating submissions to the app stores.
"When we evaluate our data," remarks StepLeader's CEO, Brian Handly, "younger demographics show incredible willingness to consume smaller bites of local content on mobile devices. They're not looking for a full content experience, just what is most relevant to them throughout the day. Daybreak is local media's answer to this current product void. It also provides an immediate response to the competitive threat posed major by technology companies such as Google, Facebook, Twitter, and Yahoo, all of whom are making significant investments in local content."
Handly states, "This is an opportunity to continue innovating in mobile for the entire local media industry. We've launched a complete redesign and two new products in the last 9 months, while many of our peers are abandoning this space entirely. Because this style of app doesn't exist today in local media, it presents an exclusive branding opportunity for news organizations around the country."
The Daybreak and traffic app seamlessly integrate to existing CMS platforms such as WorldNow, IB, Endplay, and WordPress, allowing a rapid integration and product launch. Publishers retain full control over their content, push alerts, and breaking news alerts. Critical information such as weather and traffic are highly visible, while news categories present the top three stories. The app also presents a new navigation paradigm for mobile apps to encourage faster and more frequent content consumption. In-stream categories reduce the number of clicks and pages a user must walk through before accessing their desired content.
Both products support StepLeader's full portfolio of advertising products, creating a unique and revenue-rich opportunity. Available units include sponsored content and app recommendations, rich media, traditional display, sponsorships, weather targeted ad creatives, and native ad units. As a result of this broad portfolio, StepLeader increased revenue per thousand users 199% on existing products in the last 12 months.
About the company: StepLeader formed in 2004 when it developed the nation's first news app for local media. Today, our proprietary Mobile Delivery Engine [MoDE] helps customers publish and monetize their content across hundreds of mobile apps, reaching millions of people across the United States.
Learn more at http://www.stepleaderdigital.com.