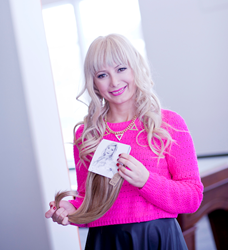 "My hair was severely damaged and needed to be cut very short, and the process of growing it out was difficult," says Sehovic. "Losing my long hair caused me to lose confidence in my looks. I tried piecing together my own kits from the different options."
Clifton Park, NY (PRWEB) April 08, 2014
Women with short, fine hair who have been trying to grow their hair out now have a solution to their problem. Launched in February, Tressmerize is a new hair extension system that allows women to transform their short hair instantly.
Tressmerize is different from other hair extension on the market because it combines a hair topper with clip-in strands. Women with short, fine hair need a hair topper, which sits on top of the head, to avoid the "mullet" look that can result from adding long extensions to the back and sides of the head. Traditional extension kits typically only include the clip-in pieces, and toppers needed to be purchased separately, often resulting in mismatched hair color between the topper and the clip-in pieces. Tressmerize kits include five clip-in pieces along with the topper, all made from the same hair so they match perfectly. At a fraction of the price of other hair extension options, Tressmerize is extremely affordable at $297 for the full kit.
Owner and creator Emina D. Sehovic developed Tressmerize out of her own frustration with the hair extensions available on the market. "My hair was severely damaged and needed to be cut very short, and the process of growing it out was difficult," says Sehovic. "Losing my long hair caused me to lose confidence in my looks. I tried piecing together my own kits from the different options out there, but the hair color and quality of the different pieces never matched. The cost was also extremely high."
With a background in marketing, Sehovic previously owned her own internet marketing company. When she developed the concept for Tressmerize, she used her promotional know-how to help launch the product. Visitors of the Tressmerize website are greeted with beautiful pictures of Sehovic modeling the hair extensions, as well as a series of tutorial videos. Customers can browse and purchase Tressmerize Kits, which are currently available in 12 colors, directly through the website. Tressmerize provides free shipping worldwide.
For more information, visit http://www.tressmerize.com.
###