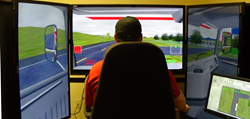 What sold GDA on the TransMaster Plus Simulator was that the technology was so advanced compared to other similar simulators being offered on the market." GDA Owner & School Director, Brad Barber
St. Petersburg, FL (PRWEB) April 11, 2014
Georgia Driving Academy (GDA), truck driving school located in Conyers, GA, took delivery of the very first 3-Screen driving simulator offered by Advanced Training Systems (ATS). The TransMaster Plus was delivered on Thursday, March 27th at 11:30 a.m. Due to the simplicity and portability of the TransMaster simulator line, the TransMaster Plus was fully functioning and in use by 3pm. Offering the most cost-effective solution in the simulation training market, all ATS simulators can be rolled through a standard doorway and assembled within a couple of hours.
"Georgia Driving Academy was one of the first private training schools in America to see the advantage of and invest in a transmission simulator by purchasing an I-Sim Simulator in 1998. GDA believes in using technology to help produce the best-trained student. Our original I-Sim Simulator has been relocated to our branch school in Columbus GA to make room for the new 3-screen TransMaster Plus Simulator in Conyers GA. What sold GDA on the TransMaster Plus Simulator was that the technology was so advanced compared to other similar simulators being offered on the market.", stated GDA Owner & School Director, Brad Barber.
Due to the decreasing popularity of manually shifting vehicles, most students have never driven a manual transmission. The simulator shifting training program provides patented technology, only offered by ATS, allowing the trainee to be completely self-sufficient, no additional instruction or trainer is needed. With the self-directed training, individuals not only become familiar with shifting patterns and operation of a manual transmission, the integrated digital coach educates and modifies behavior when clutching, braking, and learning progressive shifting autonomously. The behavior modification feature of the digital coach instills repetition of correct behavior and actions, in turn developing proper muscle memory. The TransMaster Plus contains an OEM gauge cluster with fully functioning controls and dashboard, allowing the trainee to become fully acquainted with the inside of a semi cab.
The result? When entering the real truck cab for the first time, the student driver / trainee's chance of stripping gears, breaking shifter knobs, burning out clutches and brakes is dramatically reduced due to their prior simulator training. Equally important, the student has a sense of confidence when sitting in the driver's seat of a real cab for the first time, providing a much more effective and successful experience during behind-the-wheel training.
"The TransMaster Plus Simulator is so simple to operate that no instruction manual is needed, you just click and play. In just a few days of use, we have been able to drastically improve our students understanding of the operation of a tractor-trailer as well as the entire shifting process. With the time and money it saves us in instruction and maintenance we are able to utilize those assets in other areas to continue improving our training program," said Brian Barber, GDA Assistant School Director.
The GDA TransMaster Plus also contains fully functioning driving scenarios that offer practice training in different weather conditions, day/night driving, varying road conditions, traffic and decision-making situations. "It's a win-win situation for both the truck driver training students, as well as the owners. Equipment maintenance and training costs decrease while student retention increases. This solution provided by ATS is the answer to consistent, cost-effective and optimized driver training," said ATS Manager, John Kearney.
###