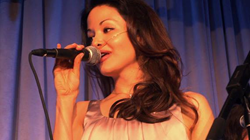 The song, "Be Brave," was written after Ms. Temtchine addressed her own state of mind – that of just trying to not die and forgetting that she needed to focus on living. The song is about making a choice to live.
New York, NY (PRWEB) April 04, 2014
The Pulmonary Hypertension Association (PHA) today announced the release of a new song, "Be Brave," by singer and songwriter, Chloe Temtchine. Ms. Temtchine is a person with pulmonary hypertension, and the song reflects her journey of being diagnosed and learning to live with this devastating disease. The song is available on iTunes or by going to http://www.ChloesPHriend.com to download.
The song, "Be Brave," was written after Ms. Temtchine addressed her own state of mind – that of just trying to not die and forgetting that she needed to focus on living. The song is about making a choice to live.
In discussing the inspiration for the music, Ms. Temtchine said, "When all hell is breaking loose and bad news is barreling towards you from every direction, holding on to any sort of hope is not an easy task. Being told I may never leave the hospital and I may not have much time left to live, made me draw on every ounce of strength I had. I had to be brave."
Chloe Temtchine has been around music all her life – starting at the age of 5 when she was influenced by gospel music in Harlem. Moving forward, she sang on her own and also worked as a back-up singer for several groups. Five years ago, she was about to begin an album on her own when she started to experience shortness of breath, coughing, and lung pain. For a singer, the loss of any breathing strength is often career-ending.
After her initial health scares of not being able to breathe, Ms. Temtchine went from doctor to doctor looking for a diagnosis. She was told that she might have any number of diseases and was also told that the disease might just be psychosomatic. This is not unusual with pulmonary hypertension as it is considered a rare condition, with only 30,000 Americans recognized as having pulmonary hypertension. However, it is estimated that 100,000 more have the disease and haven't been diagnosed as it is often not recognized until the disease is quite advanced.
For Ms. Temtchine, an acute episode of pain, loss of breath, and not being able to move brought her to the critical care unit of Weill Cornell Hospital and a diagnosis on March 4, 2013. Since that time, she has been on a variety of treatments and has changed her diet to a plant-based one. In addition, she must be on supplemental oxygen 24 hours a day.
Keeping a positive attitude has been important to Ms. Temtchine's journey. She is assisted in her day-to-day living activities by her husband, Marvin V. Acuna, a film and television producer. Showing their positive attitude and keen sense of humor, Ms. Temtchine and Mr. Acuna have nicknamed her oxygen tank Steve Martin, and at times even dress "Steve Martin" in a bow tie.
For Ms. Temtchine, coming back to the stage to perform was a major goal. This goal was met in November when she debuted the song, "Be Brave," at the Pulmonary Hypertension Association's O2 breathe Gala in New York City. PHA Executive Director, Gina Parziale said, "There was not a dry eye in the room as everyone there understood the enormous challenges this disease brings to people living with this disease, and the song expressed so well the need to accept the restrictions of the condition and yet look to the future with hope."
Pulmonary hypertension is a simplified name for a complex health problem – continuous high blood pressure in the pulmonary arteries of the lungs results in an enlarged heart which can lose its ability to pump. The disease affects people of all ages and ethnic backgrounds. It is difficult to diagnose as the symptoms are common and simple. Often people are misdiagnosed with illnesses such as asthma or bronchitis and therefore are not given proper treatment. Treatment options have greatly increased in the past year with four new drugs approved by the Food and Drug Administration. These new treatments have inspired hope for a longer survival time, with some patients able to manage the disease 15 to 20 years or longer.
About the Pulmonary Hypertension Association PHA is the country's leading organization connecting pulmonary hypertension patients, families, and medical professionals. Its mission is to find ways to prevent and cure pulmonary hypertension and provide hope for the community through support, education, research, advocacy and awareness. PHA provides free access to information on its website about pulmonary hypertension and facilitates over 240 support groups around the nation, helping many of the estimated 20,000 - 30,000 diagnosed patients in the U.S. PHA is proud to have met the BBB Wise Giving Alliance Standards for Charity Accountability. Additionally, for ten consecutive years, PHA has received the highest possible rating-4 stars-for fiscal accountability and transparency from Charity Navigator, placing PHA in the top 1% of all rated charities. 88.5% of funds raised by PHA go directly to research and our support, education, advocacy and awareness efforts. To learn more about PHA, visit: http://www.PHAssociation.org.