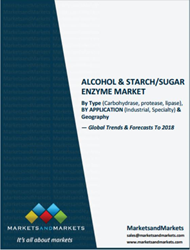 Rockville, MD (PRWEB) April 10, 2014
Alcohol and Starch/Sugar Enzyme Market by Type (Carbohydrase, Protease, and Lipase), by Application (Industrial, Specialty) & Geography - Global Trends & Forecasts to 2018
Alcohol enzymes are extensively used in various industrial applications that incorporate the production of food and beverages, biofuels, cleaning agents, and others. Due to their versatile applications, alcohol enzymes are in great demand to suffice the tremendous requirement for industrial products from consumers.The alcohol and starch/sugar enzyme market is projected to be worth $2,238.4 million by 2018 and is expected to grow at a CAGR of 7.9% from 2013 to 2018.
The report is focused on the detailed study of the types and applications of alcohol and starch/sugar enzymes in different geographical regions, with a thorough analysis of the market players in the alcohol and starch/sugar enzymes business. Novozymes (Denmark), DuPont (U.S.), Roquette Freres (France), Dyadic International Inc. (U.S.), Amano Enzymes Inc. (Japan), Advanced Enzymes Technologies Ltd. (India), ABF Plc. (U.K.), The Soufflet group (France), Codexis Inc. (U.S.), Lesaffre (France), etc., are the key players in the alcohol and starch/sugar enzymes industry.The recent development strategies of these key playershave been studied.
Asia-Pacific is projected to be the fastest-growing market for alcohol and starch/sugar enzymes. The U.S. wine market is the world's second largest market, which is estimated toincrease the demand of alcohol enzymes to process wine. The U.S. is the most important contributor for the growth of starch/sugar enzymes market in North America.
To order this report:
Alcohol and Starch/Sugar Enzyme Market by Type (Carbohydrase, Protease, and Lipase), by Application (Industrial, Specialty) & Geography - Global Trends & Forecasts to 2018
Contact: Shauna
800.298.5699
Customerservice(at)marketresearch(dot)com
MarketsandMarkets
The MarketsandMarkets edge: Worldwide, market research reports are primarily sold for numbers, market segmentation and competitive landscape, within the business leaders.
MarketResearch.com
MarketResearch.com is the leading provider of global market intelligence products and services. With research reports from more than 720 top consulting and advisory firms, MarketResearch.com offers instant online access to the world's most extensive database of expert insights on global industries, companies, products, and trends. Moreover, MarketResearch.com's Research Specialists have in-depth knowledge of the publishers and the various types of reports in their respective industries and are ready to provide research assistance.
Follow us on Facebook http://www.facebook.com/marketresearchdotcom
Follow us on Twitter http://www.twitter.com/marketresearch_
Alcohol and Starch/Sugar Enzyme Market by Type (Carbohydrase, Protease, and Lipase), by Application (Industrial, Specialty) & Geography - Global Trends & Forecasts to 2018 - Table of Contents:
1 Introduction
2 Executive Summary
3 Market Overview
4 Premium Insights
5 Alcohol & Starch/Sugar Enzymes Market, By Type
6 Alocohol & Starch/Sugar Enzymes Market, By Application
7 Alcohol & Starch/Sugar Enzymes Market, By Geography
8 Competitive Landscape
8.1 Introduction
8.2 Agreements, Partnerships, & Collaborations: Most Preferred Strategic Approach
8.3 Maximum Developments In 2012
8.4 Novozymes & Codexis Most Active Companies
8.5 Mergers & Acquistions
8.6 New Product Launches & Product Developments
8.7 Agreements, Partnerships, & Collaborations
8.8 Expansions & Other Developments
9 Company Profiles (Overview, Financials, Products & Services, Strategy, And Developments)*