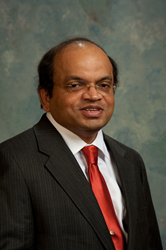 Bala's work exemplifies HNTB's commitment to technical excellence.
New York (PRWEB) April 04, 2014
Bala Sivakumar, PE, director of special bridge projects for HNTB Corporation, has been named by Engineering News-Record as a top 25 Newsmaker of 2013. The award was presented April 3, 2014, at ENR's annual black-tie gala in New York City. More than 1,500 guests and industry influentials recognized the honorees during the event.
The award honors outstanding demonstrations of leadership. ENR selects candidates for their innovations and achievements, for giving back to the construction industry and the public, and for going beyond their day-to-day jobs.
Sivakumar has led development of the Accelerated Bridge Construction tool kit which describes standardized approaches to designing and constructing complete bridge systems for rapid renewals. He co-authored, "Innovative Bridge Designs for Rapid Renewal" published by the Transportation Research Board. The book contains standardized plans for modular components, erection concepts, construction specifications and other data that can be applied to a wide variety of projects.
Sivakumar's work has been utilized by the New York State Department of Transportation's $10.2 million replacement of two spans across Interstate 84 in Putnam County, N.Y. This project successfully applied the tool kit's guidance for lateral-slide design and construction techniques, saving money and down time during replacement for motorists who use the bridge. Rapid replacement of the U.S. Route 6 Bridge in Iowa and hurricane Irene damaged bridges in Vermont are among projects that have utilized ABC design concepts from this toolkit.
Recognized nationally as an expert in load and resistance factor design and evaluation of bridges, he is the primary author of the American Association of State Highway and Transportation Officials Manual for Bridge Evaluation and the architect of the LRFR specifications, which is rapidly becoming an industry standard as more states throughout the nation transition to this protocol.
"Bala's work exemplifies HNTB's commitment to technical excellence," said Michael Sweeney, PE, HNTB chairman of professional services. "His expertise in ABC and complex bridge engineering is recognized throughout the industry and he is increasingly in demand for that knowledge."
Sivakumar joined HNTB in 2008 with more than 25 years of experience. His prior experience includes work with the Minnesota Department of Transportation on a forensic investigation of the Interstate 35 West bridge collapse; the New Jersey Department of Transportation, North Dakota Department of Transportation, the Pennsylvania Department of Transportation and the New York State Thruway Authority, among other transportation agencies.
A registered professional engineer in five states, he is a member of the American Society of Civil Engineers, and an active member of the Transportation Research Board, a division of the National Research Council, which serves as an independent adviser to the United States President, Congress and federal agencies. He is called upon frequently for expert assistance on bridge engineering issues by the Federal Highway Administration. Sivakumar holds a Master's of Science in structural engineering from Cornell University.
Sivakumar's recognition comes two years after that of Theodore (Ted) Zoli, PE, national bridge chief engineer for HNTB Corporation, who received the construction industry's most prestigious honor: Engineering News-Record's Award of Excellence for 2012.
An established leader in long-span, movable and complex bridges throughout the nation, HNTB consistently delivers cost-effective, unique design solutions for its clients in all facets of transportation infrastructure.
About HNTB
HNTB Corporation is an employee-owned infrastructure solutions firm serving public and private owners and contractors. Celebrating a century of service, including more than 90 years in New York, HNTB understands the life cycle of infrastructure and addresses clients' most complex technical, financial and operational challenges. HNTB's New York offices currently employ more than 400 full-time professional in nine tri-state locations. Professionals nationwide deliver a full range of infrastructure-related services, including award-winning planning, design, program delivery and construction management. For more information, visit http://www.hntb.com.
EDITOR'S NOTE: To read more about ENR's Newsmakers, see http://enr.construction.com/people/awards/2014/0127-The-Top-25-Newsmakers.asp.