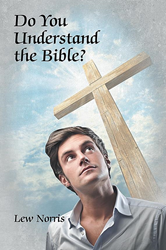 (PRWEB) April 08, 2014
The great themes of the Bible – creation, obedience, faith, hope, mercy, charity, and love – are all woven together from the beginning of Genesis to the end of The Revelation. Love, according to Christ, is the basis for all teaching and prophecy, and therefore is the foundation for Scripture.
If we can understand what the Bible is saying about these powerful topics, we can apply them in our daily activity so we can have happier, more productive lives. Do You Understand the Bible? Truly? If not, this is the book for you.
Watch the video at: http://www.youtube.com/watch?v=UZ7SKNHO-kk
DO YOU UNDERSTAND THE BIBLE? (ISBN: 978-1-62857-276-6) is now available for $20.50 and can be ordered through the publisher's website:
http://sbprabooks.com/LewNorris or at www(dot)amazon(dot)com or www(dot)barnesandnoble(dot)com.
WHOLESALERS: This book is distributed by Ingram Books and other wholesale distributors. Contact your representative with the ISBN for purchase. Wholesale purchase for retailers, universities, libraries, and other organizations is also available through the publisher; please email bookorder(at)aeg-online-store(dot)com.
About the Author: Lew Norris grew up in Atlanta, and retired in 2000 to St. Augustine, Florida, America's oldest city, which was established in 1565. "It took many years for me to grasp that the apparent contradictions in the Bible only appeared that way because of my poor comprehension of its meaning. When I taught Sunday school, I gained far more than my students because of the great research necessary to prepare a good lesson. I've poured the same dedicated study into my manuscript."
Strategic Book Publishing and Rights Co, LLC