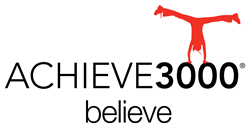 It is an honor to have Achieve3000 recognized by SIIA in this important award category.
Lakewood, NJ (PRWEB) April 04, 2014
Achieve3000® is a finalist in the 2014 Software & Information Industry (SIIA) CODiE Awards in category of Best PK-12 Personalized Learning Solution. Established in 1986, the CODiE Awards celebrate outstanding achievement across the software, digital information and education technology industries. This year, nominated ed-tech products underwent an intensive review by educator judges from around the world.
Achieve3000 online literacy solutions for grades 2-12 reach all students one-on-one at their individual reading levels, accelerating reading gains by as much as twice the expected rates, boosting mastery of Common Core Standards and performance on high-stakes tests, and preparing them for college and career. With Achieve3000, differentiation is built in, so the whole class is exposed to the same content-area topic in English and Spanish, but text and activities are auto-adjusted to each student's current reading level. Real-time monitoring and reporting make it easy to track student progress.
Earlier this year, the company launched the Achieve3000 App for iPad®, taking differentiated instruction to the next level, allowing students to build literacy skills anytime, anywhere.
"As schools around the country strive to meet today's more rigorous learning goals, differentiated instruction is the key to student achievement," said Saki Dodelson, Founder and CEO, Achieve3000. "It is an honor to have Achieve3000 recognized by SIIA in this important award category."
The SIIA CODiE Awards are the industry's only peer-reviewed awards program. Educators and administrators conduct the first-round review of all education nominees. The judges are responsible for selecting the CODiE Awards finalists, and SIIA members then vote on the finalist products. The scores from both rounds are tabulated to select the winners.
The 2014 CODiE Award winners will be announced at the 2014 Ed Tech Industry Summit in San Francisco on May 13.
About Achieve3000
Achieve3000 is the leader in online differentiated instruction, serving millions of students nationwide. For more than 14 years, the company has been helping students achieve significant Lexile® reading gains—often double-to-triple the expected gains, compared to non-users of the program. Based on decades of scientific research, Achieve3000 online solutions deliver engaging, nonfiction content that supports core curriculum, Response to Intervention, English language learning, special education, and other instructional models. These solutions – eScience3000® (for grades 6-8), KidBiz3000® (for grades 2-5), TeenBiz3000® (for grades 6-8), Empower3000™ (for grades 9-12) and Spark3000® (for adult learners) – are aligned with Common Core State Standards for English language arts as well as state standards. Achieve3000 supports 21st century education initiatives across content areas and is raising student performance across the country. The company is based in Lakewood, N.J. Learn more about Achieve3000 online at http://www.achieve3000.com or by calling 888-968-6822.
About SIIA
SIIA is the leading association representing the software and digital content industries. SIIA represents approximately 800 member companies worldwide that develop software and digital information content. Information technology (IT) and software security are critical issues to SIIA's members, many of whom strive to develop safe, secure and state-of the-art products that effectively serve their commercial and government customers alike, while protecting their intellectual property. The SIIA Education Division serves and represents more than 200 member companies that provide software, digital content, and other technologies that address educational needs. The Division shapes and supports the industry by providing leadership, advocacy, business development opportunities, and critical market information. For more information, visit http://www.siia.net/education.