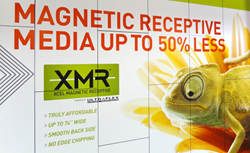 Minneapolis, MN (PRWEB) April 06, 2014
Xcel has been on the forefront of magnetic receptive graphics for over 8 years, constantly striving to educate brand owners and printers on the benefits of this concept. Xcel has analyzed the pain points and shortcomings of the existing magnetic receptive products and realized that a change was needed. Partnering with Ultraflex, another leader in the graphic media industry, we developed XMR. The result is a product that is truly affordable, has enhanced performance and is offered in wider widths, all without sacrificing functionality.
XMR was launched at GlobalShop 2014 and received the highest praise from designers, brand owners, retailers, fixture manufacturers and printers. Most of them, familiar with magnetic receptive graphics, recognized that XMR overcame known issues with other magnetic receptive materials by providing:

Lower Costs
No Edge Chipping
Over 60" Wide Media
For more information about the advantages of XMR, please download a spec sheet here.
Xcel also introduced a best-in-class online shopping website xcelfixtureshop.com featuring premium magnetic display systems to support XMR graphics. With the ability to purchase pre-built magnet backers and XMR at affordable prices, it opens up new possibilities for projects that once couldn't afford this simple changeable graphics system.
About Xcel Products
Xcel develops innovative, printable products that are solution orientated. XMR and magnetic display systems are only a few of many products born of this approach. Xcel Products' main website has also been updated with multiple search options to find the right product for your application and soon, online purchasing will be available. Xcel also partnered with a leading brand agency, Adrenaline. Together we have a unified goal to maximize the translation of your brand into the physical environment by eliminating gaps between strategy, design, production & implementation.
Brian Cheshire, Sales Manager
Xcel Products, Inc.
763-231-3040
http://xcelproducts.com