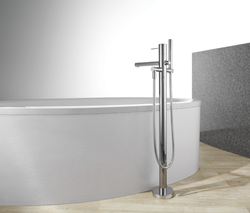 The KWC ONO Freestanding Tub Filler, now with a splendure™ stainless steel finish and featuring the integral, wand-style hand shower, located at the top right perpendicular to the spout.
Norcross, Georgia (PRWEB) April 08, 2014
Incorporating a graceful but robust operating lever made of surgical stainless steel, the KWC ONO freestanding tub filler is now available in KWC's proprietary splendure™ stainless steel finish. This new version of the tub filler is also equipped with an integral, wand-style hand shower.
Also offered in chrome with the architectural KWC ELY hand shower, this minimalist freestanding tub filler features a fixed, 7-7/8-inch spout and a 71-inch hose. The filler spout has a flow rate of 7.5 gallons per minute (gpm) at 60 pounds per square inch (psi) of pressure; at the hand shower, 2.0 gpm at 80 psi.
Clean lines, high-quality materials and Swiss manufacturing precision are reflected in every detail of the KWC ONO Bath series, which debuted in 2011. The series also includes lavatory faucets, overhead showers, a hand shower on a sliding wall bar; shower trim kits for either thermostatic and pressure balance valve applications; and an assortment of rough-in components and complementary accessories.
Perhaps the most intriguing aspect of the KWC ONO series is the incredibly slim, but super-strong operating lever for the faucets and tub fillers. Delicate to the eye and to the touch, the lever is made of hardened stainless steel and engineered to withstand years of rugged usage.
Operating directly on the ceramic disc cartridge inside the faucet and the tub filler – for a more exact control of water flow and temperature – the chrome-tipped lever moves within a sealed link, minimizing the number of joints and edges that could trap dirt and undercut both appearance and performance.
LIST PRICING
The KWC ONO Freestanding Tub Filler lists for $2,100 in chrome; $2,850 in splendure stainless steel.
For more information on KWC ONO Bath, including the two Freestanding Tub Fillers, visit: http://www.kwc.us.com
For a downloadable copy of this press release and multiple hi-res images, please visit: http://kwc.oreilly-depalma.com/2014/ono-freestanding-tub-filler.shtml
ABOUT KWC
KWC is a leading supplier of luxury kitchen and bath faucets, shower systems and accessories in North America. For more than 140 years, KWC has defined Swiss Excellence and is proud to be the first faucet manufacturer in Switzerland to receive the ISO 9001 Quality Assurance Certificate. That KWC faucets are still designed and manufactured in Switzerland is our guarantee of the expertise and skill of the workforce, the constant refinement of tried-and-tested technologies and a consistently high-quality product. For more information, visit: http://www.kwc.us.com. Or call: 678.334.2121.
MEDIA CONTACT
O'Reilly DePalma: 815.469.9100. As for either…
John O'Reilly: john.oreilly(at)oreilly-depalma.com
Jamie Solus: Jamie.solus(at)oreilly-depalma.com