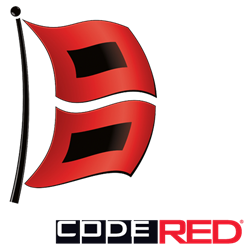 Ormond Beach, Fla. (PRWEB) April 11, 2014
CodeRED representatives will be in attendance at the National Hurricane Conference (NHC), April 15-16, 2014, where they will offer system demonstrations and trainings in a reserved hospitality suite at the Orlando Hilton.
Authorized state and local government officials interested in implementing the CodeRED system in their community are encouraged to visit the suite for complimentary system demonstrations. Current clients may take advantage of system trainings during this time as well. It is not required to attend the NHC in order to visit the CodeRED hospitality suite.
Conference attendees and local public safety officials also have the opportunity to learn more about the CodeRED Mobile Alert app, a geo-specific public safety smartphone application that delivers time-sensitive alerts to subscribers within the exact area of impact. CodeRED representatives will be on hand to discuss and demonstrate the CodeRED IPAWS Alert Origination Tool, which allows authorized users to deliver critical alerts through WEA, NWEM, EAS and COG to COG inside the CodeRED system.
NHC attendees and Florida-based CodeRED CodeRED users are invited to attend a complimentary CodeRED Social on April 16 from 5-7 p.m. CodeRED representatives will also be in attendance at booth #106 during the NHC.
About National Hurricane Conference
The primary goal of the National Hurricane Conference is to improve hurricane preparedness, response, recovery and mitigation in order to save lives and property in the United States and the tropical islands of the Caribbean and Pacific. In addition, the conference serves as a national forum for federal, state and local officials to exchange ideas and recommend new policies to improve Emergency Management.
About Emergency Communications Network
Headquartered in Ormond Beach, Florida, Emergency Communications Network, LLC (ECN) has pioneered high-speed notification services capable of reaching millions of people in minutes. ECN's sophisticated network supports a Web-based product suite featuring six major services: SmartNotice™, a business continuity and staff notification solution; CodeRED® which enables local government officials to communicate time-sensitive, personalized messages in a multimodal approach; CodeRED Weather Warning™ which provides automated alerts to people in the path of severe weather just moments after a warning has been issued by the National Weather Service; CityWatch™, a premise based, full featured outbound and inbound communication notification system; Code-ED® for use by school systems to improve communications with their communities and MyDailyCall™ for scheduling calls to check on at-risk individuals, including the elderly, infirm and latchkey kids.