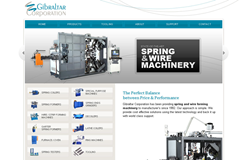 Idea made the process easy...the site was migrated to WordPress which enables us to make changes on the fly.
Northbrook, IL (PRWEB) April 06, 2014
Gibraltar Corporation of Northbrook, IL has launched a new responsive website. They came to Idea Marketing Group looking for a website that they could update themselves and that would be responsive for mobile devices.
"Idea made the process easy," says Michael Shapiro of Gibraltar Corporation, "The site was migrated to WordPress which enables us to make changes on the fly. They provided training so we can make the web changes ourselves moving forward saving us time and money."
Gibraltar Corporation assists spring and wire forming manufacturers, metal stamping manufacturers and OEMs in finding cost effective manufacturing solutions and technical support. Specializing in finding solutions that fit all budgets, whether it is a turnkey, ready-to-go machine or a fully customizable solution, Gilbraltar Corp. comes up with a plan and supports it with service.
Gibraltar Corp. also provides high quality carbide spring tooling at reasonable prices for spring and wire forming machinery, including Simco and EN, Itaya, Bobbio, Herdon, HTC, Minyu and others. Gibraltar Corp. is the exclusive North American dealer of Simco Spring Machinery, a Taiwan based spring machinery manufacturer.
Idea built the new website on the Wordpress platform and optimized for search. The site allows Gibraltar Corp. to update the site from an easy to use Wordpress content management system. Each product includes details, specifications downloadable brochure and the opportunity to contact Gibraltar Corp. for more information.
Idea Marketing Group, located just west of Chicago, offers web design, web development, and marketing services to clients nationwide. With additional specialties in branding, graphic design and marketing services. Idea draws from experienced, in-house talent paired with unmatched customer service at award-winning levels.