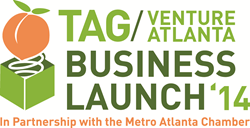 The eight finalists will pitch in a bracket competition for the chance to win $50,000, a spot in Venture Atlanta and more than $300,000 in services
Atlanta, Georgia (PRWEB) April 04, 2014
The Technology Association of Georgia, Venture Atlanta, and the Metro Atlanta Chamber revealed today the eight companies that will advance in the 9th annual Business Launch Competition. The companies were selected after they pitched in the competition's Semi Final round.
"We had a great group of early stage companies representing a broad range of industries competing this year. It's always interesting to hear the entrepreneurs pitch their company as many of the presenters really were able to shed a whole new light on their opportunity," said Melanie Leeth, President of Imlay Investments. "It was obvious the companies worked hard on their presentations, as we had a strong group of companies to evaluate and it didn't make narrowing the group down to eight easy."
Ms. Leeth was a part of the esteemed panel of judges which included Evelyn Bolden, Joan Herbig, Jeff McConnell, Keith McGreggor, Blake Patton, Michael Price, and Martin Tilson
The companies that were selected to move on in the competition are:

Brytecore
Cooleaf (@cooleaf)
Keyp
Monsieur (@getMonsieur)
Niche Video Media (@NicheVideoMedia)
Partpic (@Partpic)
Vault Stem Cell (@VaultStemCell)
WorkReadyGrad (@WorkReadyGrad)
The eight finalists will pitch in a bracket competition for the chance to win $50,000, a spot in Venture Atlanta and more than $300,000 in services.
"We were impressed that the finalists represent three of Georgia's strongest industry sectors – health IT, security and hospitality – and reflect the innovation and creativity coming out of the startups in this market," said Allen Moseley, investor and Business Launch Sponsor.
The final competition is open to the public and will begin at 4PM on May 5 in the G. Wayne Clough Undergraduate Learning Commons on Georgia Tech's Campus. The audience will have the opportunity to impact the results of the competition by text voting their support. Registration is available online at http://bit.ly/GaBizLaunchFinal
This statewide program supports the creation and growth of new companies to aid in strengthening and expanding Georgia's strategic high-tech clusters. In the next three to five years, projections show technology companies will invest more than $1 billion in Georgia. Information about our finalists and the 9th Annual Business Launch Competition is available online at http://www.tagonline.org/events/businesslaunch/.
About The Technology Association of Georgia (TAG)
TAG is the leading technology industry association in the state, serving more than 22,000 members through regional chapters in Metro Atlanta, Athens, Augusta, Columbus, Macon/Middle Georgia and Savannah. TAG's mission is to educate, promote, and unite Georgia's technology community to foster an innovative and connected marketplace that stimulates and enhances a tech-based economy. The association provides networking and educational programs; celebrates Georgia's technology leaders and companies; and advocates for legislative action that enhances the state's economic climate for technology.
TAG hosts over 200 events each year and serves as an umbrella organization for 34 professional societies. Additionally, the TAG Education Collaborative (TAG's charitable arm) focuses on helping science, technology, engineering and math (STEM) education initiatives thrive.
For more information visit: http://www.tagonline.org.